England drawn in the same World Cup qualifying group as Wales
By Tony Leighton
Women's football reporter
Last updated on .From the section Football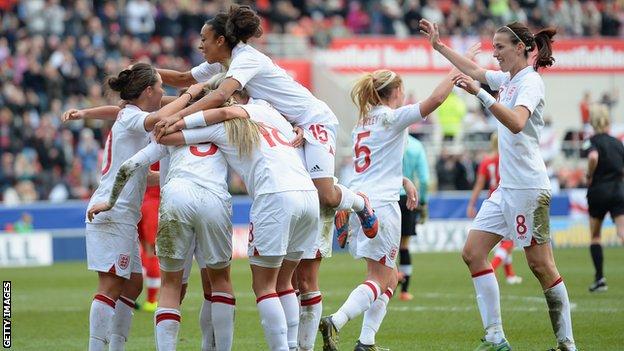 England have been draw in the same qualifying group as Wales for the 2015 World Cup in Canada.
England have not faced Wales since 1985, but a 6-0 win in that year was a sixth victory in the six meetings so far played against them.
Scotland and Northern Ireland will meet after being drawn in the same group.
Joining them in Group 4 are Sweden, Poland, Bosnia & Herzegovina and the Faroe Islands.
In the current Fifa world rankings England are seventh, Ukraine 23rd, Wales 38th, Belarus 39th, Turkey 64th and Montenegro 125th.
The Three Lions have beaten four of their five Group 6 opponents on each occasion they have faced them.
And they have yet to meet the fifth, Montenegro, who had to go through a preliminary round to reach the qualifiers and are the group's weakest team.
England have met and beaten Ukraine, Belarus and Turkey twice each, all six games in either World Cup or European Championship qualifiers.
Scotland and Northern Ireland are 21st and 55th in the Fifa rankings.
The Republic of Ireland, who are ranked 32nd, will be up against two-time World Cup winners Germany, plus Russia, Slovakia, Slovenia and Croatia in Group 1.
The seven group winners qualify automatically for the finals, to be played from 6 June to 5 July 2015 in Edmonton, Moncton, Montreal, Ottawa and Vancouver.
The four runners-up with the best record against the sides first, third, fourth and fifth in their groups go into play-offs for the remaining European place.
Japan won the 2011 World Cup in Germany, with England knocked out of the quarter-finals on penalties by France.
2015 World Cup European qualifying draw
Group 1: Germany, Russia, Republic of Ireland, Slovakia, Slovenia, Croatia.
Group 2: Italy, Spain, Czech Republic, Romania, Estonia, Macedonia.
Group 3: Denmark, Iceland, Switzerland, Serbia, Israel, Malta.
Group 4: Sweden, Scotland, Poland, Northern Ireland, Bosnia & Herzegovina, Faroe Islands.
Group 5: Norway, Netherlands, Belgium, Portugal, Greece, Albania.
Group 6: England, Ukraine, Belarus, Wales, Turkey, Montenegro.
Group 7: France, Finland, Austria, Hungary, Bulgaria, Kazakhstan.