SPL2 on agenda as Hamilton call First Division summit

By Chris McLaughlin
Senior Football Reporter, BBC Scotland
Last updated on .From the section Football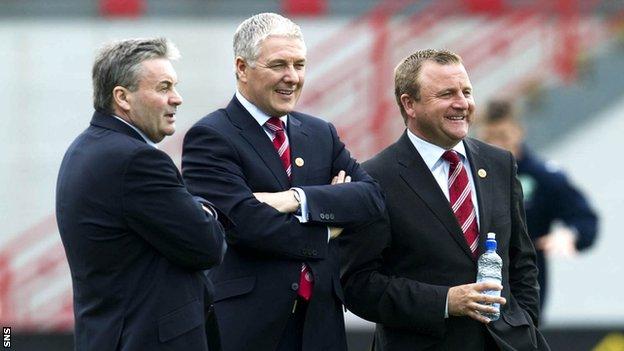 First Division clubs have been invited to a Monday meeting where the creation of a second tier of the Scottish Premier League will be discussed.
Top-flight clubs this week failed to achieve the 11-1 majority required to give their backing to the creation of new leagues of 12, 12 and 18 teams.
The plan had proposed a redistribution of finances to lower-league clubs.
Hamilton Academical have invited their divisional rivals to discuss a response to what they view as a set-back.
SPL chief executive Neil Doncaster said that First Division clubs would have benefited most from the creation of two top-flight leagues that would have split into three sections of eight midway through the season.
BBC Scotland understands that the possibility of an "SPL2" will be discussed at the meeting called by Hamilton.
Accies and the other 29 Scottish Football League clubs would have had their own chance to vote on the proposal for the creation of three professional leagues to replace the present four had it been approved by the SPL.
But the proposal fell after Ross County and St Mirren voted against.
Disappointed Falkirk chairman Martin Ritchie said that First Division clubs like his own had to "take stock of the situation and wait to see what emerges from the SPL and the SFL over the next few days" but suggested that the Scottish FA should intervene.
"I am now concerned that there will never be a proposal that can gain approval of 11 SPL clubs and 23 SFL clubs," he said.
"It looks like a stalemate where the game will stagnate in its current form until someone breaks the deadlock.
"Perhaps it is already time for the SFA, as the governing body for football in Scotland, to step in and take control."
The SFL board will now meet on Thursday to discuss the governing body's own response to the decision.
It appears that the SFL hopes that some parts of the plan, which also proposed more play-offs, a merger of the SPL and SFL and a pyramid system to allow new clubs access to the bottom tier, could be salvaged.
At the meeting on Monday, though, some First Division clubs could call for a breakaway from the SFL to join the SPL.
Hamilton chairman Les Gray told BBC Scotland: "We can't continue to sustain full-time Scottish football producing our own young players with a budget that gives us £50,000 in distribution from our league and sponsorship.
"We need change and we need to make sure that change happens as soon as possible."
Doncaster admitted to BBC Scotland that an SPL2 for next season would be possible should any proposal garner the support of 11 members clubs.
However, he stressed that the package rejected by County and St Mirren was only on offer as a whole and website statements from Celtic, Dundee United and Motherwell have reiterated the opinion that there is no alternative plan.
County and the Buddies have also voiced opposition to an SPL2, instead suggesting that a compromise had to be reached involving all 42 professional clubs.
Raith Rovers chairman Turnbull Hutton has not given up hope that something can be salvaged.
"I don't think that these 10 SPL chairmen are going to shrug their shoulders and walk away from that," he said.
"And, equally, the First Division clubs are disappointed but, in the main, keen to push this through.
"All the commentators, the media, the press, everybody, says it's not working, it's broken, we are going to have to change it. We can't all walk away from it."