Ross County and St Mirren eye wider talks over league structure
Last updated on .From the section Football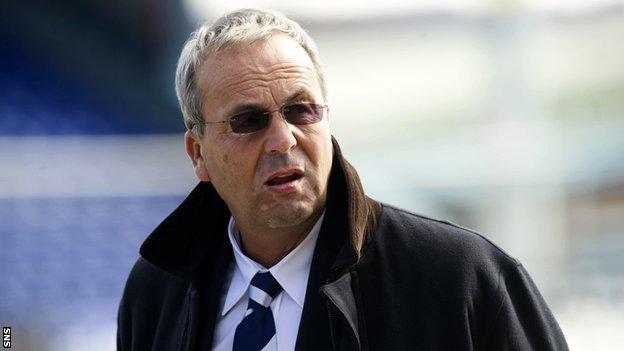 Ross County and St Mirren hope all 42 professional clubs in Scotland can come together to reach a compromise that will create a better league structure.
The two clubs have defended their decision to reject a proposal for new leagues of 12, 12 and 18.
They stressed that they were against a structure that would have resulted in the two top divisions splitting into three sections of eight in mid season.
But they hope other, less divisive parts of the proposal can be saved.
County chairman Roy MacGregor told BBC Scotland: "I think 80% that was on offer, the one league body, the redistribution of income, in particular were really givens by most clubs.
"Yes, there is some resentment and disappointment there, but there is a great onus on both the chairman and administrators to work on a solution.
"Once we can dust ourselves down, we can all get round the table and, along with our colleagues in the SFL, try to come up with a structure that suits Scottish football.
"We weren't far away, it isn't totally broken and I would have preferred to go with the 80% that was good and then work on the 20%."
MacGregor had sympathy for First Division clubs who were hoping for the promised redistribution of income to help preserve their full-time playing staffs.
However, he and St Mirren have both stated that they do not believe a breakaway by Division One clubs to create a second tier of the SPL was a possibility.
"I think that just muddies the water," said the Dingwall club's chairman. "I think we need to find a solution for all 42 clubs in Scottish football, not just form an SPL2."
The County chairman said the main sticking point for him was that the proposed mid-season split was difficult for fans, their customers for season tickets, to understand.
"When we went to our stakeholders, staff, fans, directors, we had over 95% who could not understand how this was put together," he said.
"If the wider fan in Scotland has difficulty in understanding it, why are we doing it? And are we trying to cobble something together to get change for change's sake?"
MacGregor again quoted a recent Scottish FA survey that found a vast majority of Scottish football fans wanted a larger top flight.
Clubs in favour of the new league structure had offered potential compromises, including phasing in the changes and allowing a 9-3 majority for future structural changes.
However, in a website statement, St Mirren said they had wanted the 11-1 majority reduced for many more issues.
The Paisley club revealed that they had offered their own compromise, agreeing to a merger of the SPL and Scottish Football League, a redistribution of finances and a play-off for relegation from the top flight instead of the three eights split.
"Some clubs were willing to discuss this and hopefully come to a compromise," they said.
"Regrettably, this was rejected by a majority of clubs who wished to only stick to the all or nothing proposal.
"St Mirren FC hope that all 42 clubs can get round the table in the very near future to progress the formation of one league body and the all-through financial distribution model as the first steps to finding the best league format to encompass the views of clubs, supporters, sponsors and all other people involved in Scottish football."