St Mirren chairman Stewart Gilmour threatens legal action
Last updated on .From the section Football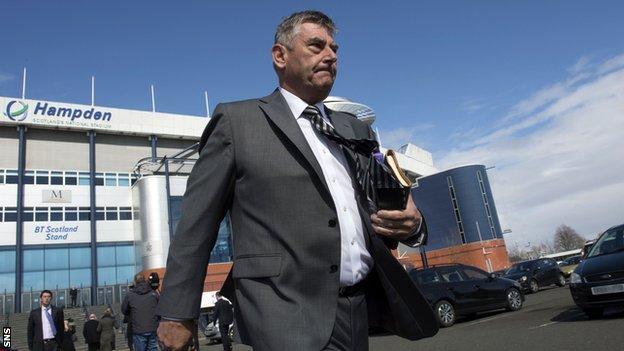 St Mirren chairman Stewart Gilmour has threatened legal action against those who claim he sank league reconstruction talks in a bid to favour Rangers.
Gilmour joined with Ross County chairman Roy MacGregor to vote down Scottish Premier League plans for a new 12-12-18 set-up.
"These rumours sound like a conspiracy theory," said the St Mirren chief.
"Any club official who would suggest such a thing, we would look at it legally because it is slanderous."
Following the SPL meeting, Aberdeen chairman Stewart Milne hinted that Gilmour had an "agenda" behind his decision to vote against the proposals.
Hearts chief executive David Southern suggested St Mirren concerns on voting structures were a "smokescreen to protect other people's interests".
Had the plans for the new league structure gone through, Rangers would have remained in the basement league, despite having already won the Third Division.
With the status quo prevailing, the club now run by Charles Green will instead be promoted to the third-tier Second Division.
But the St Mirren chairman said: "The St Mirren board are only interested in what is in the best interests of St Mirren Football Club and that will always be the case.
"It's ridiculous. This is a club that voted Rangers into Division Three, voted a director off our board because of alleged links to Rangers.
"We are also a supporter of a 42-team solution for Scottish football, not an SPL2, and that would therefore have no short-cut for Rangers back to the top-flight, so where somebody would get the idea that we were doing this to help Rangers is beyond me.
"I would add that Charles Green did attend a game at St Mirren Park. But, like any director, chairman or manager from any football club, when they make a request for tickets by email, they are shown the same hospitality by the club as any other representative.
"During Mr Green's visit, there was no discussion about league reconstruction. In fact, the only thing we did speak about was agents, players wages, etc."
Meanwhile, St Mirren issued a statement defending their decision to vote against the restructuring package.
Milne and Southern had expressed surprise that Gilmour had not been placated by an offer to reduce the 11-1 voting structure to 9-3 for the make-up of the league.
However, St Mirren said: "We made it perfectly clear in our statement issued last week that we were against the league structure proposed and also that of the proposed 11-1 voting system."
The Paisley club said that they wanted a 9-3 majority to be extended to other areas, such as the distribution of finance, squad sizes, under-21 player rules, season start dates and salary capping.
St Mirren said they were disappointed to be accused of self-interest, saying they had taken the decision after consulting their fans, who were against the idea of splitting the two top leagues into three sections of eight midway through the season.
"We are very grateful for all the messages of support we have received not just from our own fans but also from supporters of many other clubs who did not wish this proposal to go ahead," they added.
"We firmly believe in our heart and in our head that this is the correct decision for Scottish football."