Craig Bellamy sheds tears of joy after Cardiff clinch promotion
Last updated on .From the section Football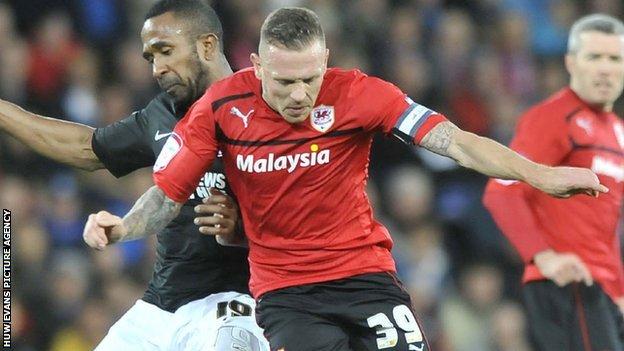 An emotional Craig Bellamy admitted shedding a tear of joy after Cardiff City clinched promotion to the Premier League with a 0-0 draw against Charlton.
The 33-year-old Cardiff-born striker described the club's achievement as "immense" and "phenomenal".
"It's just been a tough season, this Championship's just so tough," he said.
"To be on top, to be one of the two teams promoted [automatically], it's just such an achievement for us."
Asked if he had cried after the game at the Cardiff City Stadium, Bellamy replied: "I did, it's been a tough year.
"To spend it with the people and to see them here today and to see my dad and my son, these are one-offs.
"You probably won't be able to re-create this or get better than this, so I wanted to soak it up and enjoy every second of it.
"We're going to be in the Premier League. What this is going to do next year to the club, to the city, it's just going to be phenomenal. It's just immense."
A Cardiff City fan as well as a player, the 73-times capped Welsh international says he has followed the club's progress in recent seasons.
"I've seen first-hand, living in the area, the near-misses and the heartbreak that we've had at this club and it's been tough," said Bellamy.
"But slowly we've just gained momentum and gained direction and started really pushing forward over the last few years.
"I never thought in my wildest dreams I'd ever see the club in an FA Cup final, I would never have thought I'd have seen Cardiff in a League Cup final.
"But Premier League was the one we all wanted and to play a small part in it as a player myself, it's just an honour and something that will live for me for a number of years.
"I don't know if I'll get in the team next year. We don't know who we're going to bring in, or what type of players.
"It's a long way down the road, but I hope to see my career out here at Cardiff."
Manager Malky Mackay paid tribute to the fans and the players after the game.
Speaking on the pitch surrounded by celebrating fans, he told BBC Radio Wales: "It's quite incredible.
"It's something that you dream about to see this amount of people doing what they're doing and going into the Premiership next year.
"They were fantastic coming out all year and it's just fantastic tonight."
After missing out on promotion three times in recent seasons, Mackay was glad that the club had shed the tag of "nearly men".
"This group haven't been nearly men, they're a group of winners, and that's why we are where we are," said Mackay.
"For 18 months, they've pushed themselves to the limit and it's taken time and we've got there.
"This is a group with character. We've been top since 24 November. There's real character here."
The Scotsman, who took over at Cardiff in the summer of 2011, said he still has one aim left for the season.
"We're going to go and try and win the title without a doubt," he promised.