Off The Bawl - 13 April
By Tam Cowan
Off the Ball presenter
Last updated on .From the section Football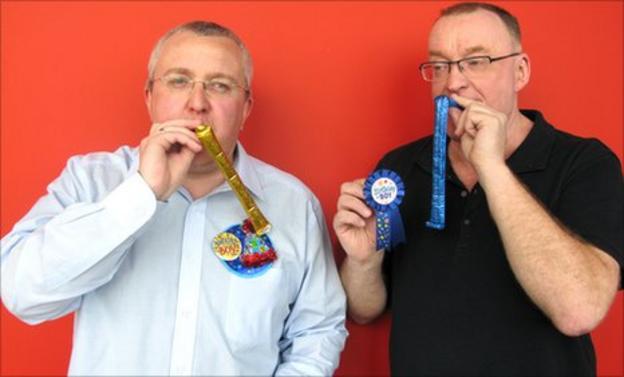 Greeeeeetings!!! Our star guest on Saturday was the former Clyde, Scotland, Motherwell and Aberdeen boss Craig Brown, who joined us in the studio for a special look back on his 155 years in football.
Here's another selection of the most petty and ill-informed texts and emails on radio...
CRAIG BROWN TRIBUTES
Craig Bruce in Australia said: "My memory of Craig Brown is a personal one. He was a lecturer at Craigie College when my wife did her teaching degree. She used to come back home and tell me that all he spoke about was Pat Nevin. In fact, it got to the stage that, in modern parlance, she thought they were in a civil partnership. How much love is there between them? By the way, Craig, the Australia manager's coat is currently on a shoogly peg, do you fancy it?"
John Black in Newbury said: "Back in the early 90s, there was a newspaper story about Steve Stone being considered for a Scotland cap (apparently he was born or brought up in Kilmarnock). Outraged, I emailed the SFA about it and probably wasn't very diplomatic (I'm not proud of the words I used). However, I got a personal email back from Craig, way more polite than he needed to be, explaining that the story was rubbish and that he would only ever cap people who wanted to play for the jersey. A good man and a good manager."
Tam in Edinburgh said: "My lasting memory of Craig Brown is the classic line 'we got more corners than them!' In fairness, though, I bet he's remembered as the last man to lead Scotland to a World Cup finals."
David in Edinburgh said: "My favourite Craig Brown moment was his expletive right after Christian Dailly's header was saved at Wembley. In that one moment, he summed up the feelings of every true Scotsman."
Dolly in Aberdeen said: "Do you remember when Craig wore a black and gold Come On Ye Reds beanie in December? He took a lot of stick with some reporters saying the label was sticking out. Well, I'd like to tell Craig he was wearing it exactly as it should have been. It was actually my gift to Craig and I want him to know he wore it well."
Alan in Inverness said: "My favourite memory of Craig Brown was the five minutes when he played two strikers up front for Aberdeen!"
Finally, we got an email from George Yule, the vice-chairman of Aberdeen FC, which said: "Craig's a lovely man and I'd just like to wish him every future happiness from everyone at Pittodrie."
Awww...
To join in the fun on this Saturday's show, call 0500 929500, text 80295 or email offtheball@bbc.co.uk
Listen to the most recent Off the Ball programmes.
Download the latest Off the Ball podcast.