Charlie Austin: Burnley striker to miss rest of season
Last updated on .From the section Football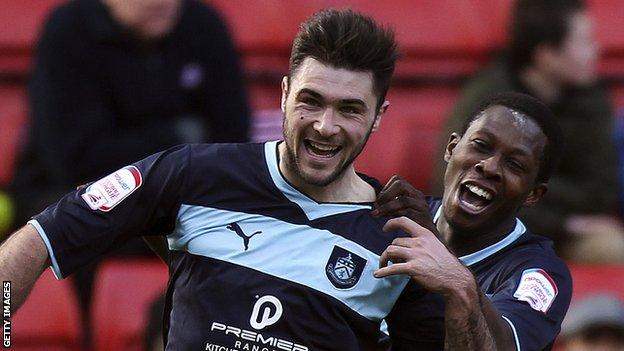 Manager Sean Dyche has confirmed Burnley will be without Charlie Austin for the rest of the season after having surgery to remove his appendix.
He missed Tuesday's which dropped the Clarets to within three points of the relegation zone.
The Clarets had one of their best runs of the campaign after
"The way I look at things like that is it's a good opportunity for others," Dyche told BBC Radio Lancashire.
"I said that earlier in the season and we won four out of five. We have to stimulate that thought process in the players and be ready to go."
Meanwhile, midfielder Alex Kacaniklic has been recalled by parent club Fulham due to an injury crisis at Craven Cottage.
Austin, 23, complained of feeling unwell on Monday and had an operation 24 hours later after being diagnosed with appendicitis.
Dyche continued: "Alex Kacaniklic and Joseph Mills were off with a bug that's going around so he thought it was that at first.
"We sent him home and he was still struggling so we got him off to blood tests and the consultant said it needed to come out straight away. So that was it - decision made."
Dyche has conceded that Burnley, who have won just one of their last eight Championship matches, are now in a relegation battle after losing at Elland Road.
"You can't rely on other people," added the former Watford boss. "We've had a few things go against us but you have to earn everything you get in football. That means coming to places like Leeds and putting on a performance that can win a game.
"Sometimes you get a blip and that's what it needs to be because we've got Cardiff coming on Saturday.
"Although they've been promoted, I know [Cardiff manager] Malky Mackay. His troops won't just come and lie down. They'll want to try and win so we'll need to be ready for that for starters."