Lee Johnson hopes father's team Yeovil win play-offs
Last updated on .From the section Football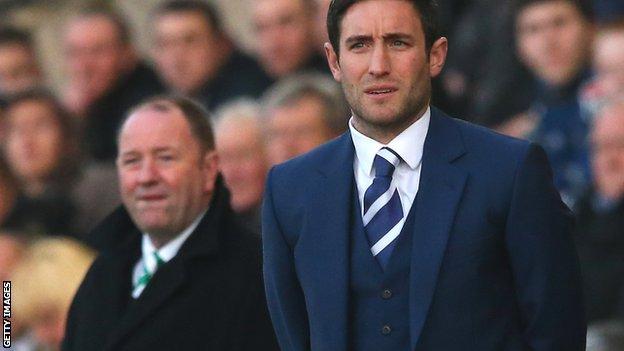 Lee Johnson wants his father Gary to win promotion to the Championship via the play-offs after Oldham dented Yeovil's automatic promotion hopes.
to take a huge step closer to League One survival and to leave Yeovil five points from a top-two position with two games left.
Johnson Jr, an-ex Glovers midfielder, has wished his former club well.
"I hope they [Yeovil] go up through the play-offs. They're a good side and they can do," said the Oldham boss.
The pair became the first father and son to manage opposing teams in a Football League match since 1971, and when asked about his feelings at the final whistle after sealing victory, he added: "We had a little cuddle at the end of the game.
"I felt for him because I could feel he was upset, but at the same time the relief inside me took over that emotion."
Oldham's win confirmed that both Hartlepool and Portsmouth will play League Two football next season.
And with closest rivals Colchester and Scunthorpe both losing on Tuesday evening, the Latics need two points from their final three matches to be sure of survival.
However, given Scunthorpe's vastly-inferior goal difference, a draw at home to Crawley on Saturday should be enough for safety.
The 31-year-old told BBC Radio 5 Live: "It's a massive three points and it was even bigger with the results that went on elsewhere. We were aware of that because you've got to be aware of that.
"I'm so pleased for the lads, because there's been all this media hype, but all I've wanted to do is make sure they've been right.
"We'll not get complacent, because we've got three very tough games left and you never know what can happen."
As for Yeovil, they will probably have to settle for the play-offs as they bid to reach the Championship for the first time in their history. They lie fifth in the table, five points behind second-placed Bournemouth.
Glovers boss Johnson conceded that his side were below par at Boundary Park, telling BBC Somerset: "What we need to do now is get our game back. I don't know how we're going to get it back, because it was a long way off.
"We've got to get it back as soon as we can. We've got two league games to try and find a play-off game.
"I've taken teams to the play-offs and I know where we've got to get them. At the moment we're knocking them down but we'll build them up again.
"We're in the play-offs, little old Yeovil, and we reach for the stars but we may not get there [automatic promotion]."
And on managing against his son for the first time, Johnson added: "There were a couple of times I wanted to say to Lee 'calm down'.
"He controlled a ball on the pitch and I thought 'What are you doing?' I didn't know whether to scream, shout, laugh, cry or what.
"I didn't enjoy the game because my team didn't perform. I'm pleased for Lee and pleased for his team because they deserved the victory.
"I'll try not to talk [to him] about football. He'll try and bring it up on a few occasions but I'll just ignore him and try and talk about something else."