Portsmouth relegation: Guy Whittingham remains positive
Last updated on .From the section Football116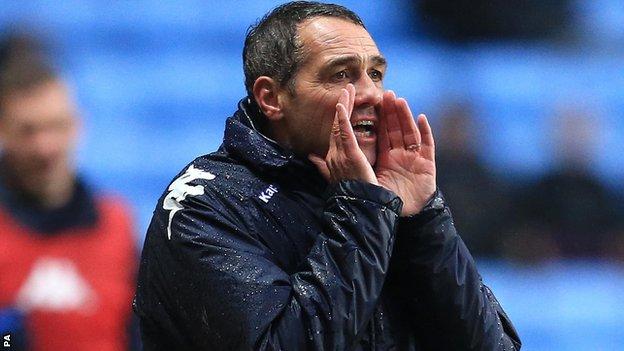 Portsmouth caretaker-manager Guy Whittingham says the club have a positive future, despite suffering a second successive relegation.
Pompey are now bound for League Two having come down from the Championship.
Five years ago the club were FA Cup winners and in the Premier League, but they have been hit by financial issues.
"I'm glad to say we've come out the other side and everything is looking a lot more positive," Whittingham told BBC Radio Solent.
Portsmouth, who have been in administration since February 2012, are on the verge of a takeover by the Pompey Supporters' Trust (PST) following a complex legal battle with former owners Portpin.
Since winning the FA Cup in 2008 they have suffered three relegations in four seasons and have been in administration twice in three years.
But with the PST about to take control, and the club set to exit administration by Friday, Whittingham believes supporters should not be too despondent.
"It's been such a difficult time and the club unfortunately found itself where it was," he said.
"We tried, we remained competitive but ultimately it wasn't enough. I do think we've given everything we can given the circumstances."
During the summer the club were forced to sell every senior player and Whittingham has had to work under incredibly difficult conditions since taking over from ex-boss Michael Appleton in November.
And he says despite their relegation they are determined to end their troubled season on a high.
"No one knows what went on in December and January," he continued. "That was not pleasant to be around the football club but it was where we were and we got on with it.
"It's important that we remain competitive in our final two games - we want to win them.
"We will hopefully have our first home game on Saturday with everything sealed [the club out of administration] and with new owners, so we want to get off to a good start as far as that is concerned. Then we've got our last game of the season and everyone wants to win the last game of the season."
The chairman of the PST Ashley Brown admits relegation was "inevitable", after the Football League confirmed several months ago that Pompey faced another 10-point penalty when they came out of administration.
There has been some ambiguity as to when that penalty will be imposed, based on how competitive or otherwise the club are when they exit administration.
However, despite already being relegated, Brown believes the penalty will not be carried into next season.
"Relegation was inevitable," Brown told BBC Radio Solent. "We've been expecting it for quite a while.
"We knew the minus 10 points would be coming off so we've been relegated for a few weeks now.
"Our understanding and agreement with the Football League is that the 10-point deduction will be coming off this season regardless of the fact we are already relegated."
Brown added that it would be huge blow for the club to be hit with the penalty next season and said they would be in touch with the League in the coming days to clarify the situation.
"It would be devastating to have them taken off next season and have to start next season on minus 10," he added.
"We have our agreement with the League - they set us a number of conditions in order to keep our 'golden share' [League status] and one of those was to have a points deduction this season.
"Our chairman elect spoke to them two or three days ago and I'm sure our lawyers will be talking to them in the coming days."