Scottish football needs mediator, says Stewart Gilmour

By Chris McLaughlin
Senior Football Reporter, BBC Scotland
Last updated on .From the section Football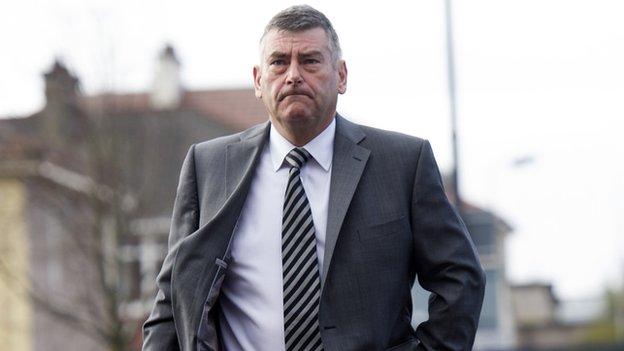 St Mirren chairman Stewart Gilmour believes Scottish football needs a "mediator" to facilitate a way forward.
The Buddies and Ross County voted against plans for league restructuring and
And Gilmour says there was an air of "arrogance and bullying" at the vote.
Other features of the proposals included a re-distribution of finances and the merging of the SPL and the Scottish Football League.
A late amendment to the plan, which would have changed the majority needed for future restructuring, was offered in an attempt to achieve the necessary support for approval.
However,
"The solution put down as a 'take it or leave it' for us was only going out the frying pan into the fire, it wasn't a step forward and we would still like to get to a step forward," said Gilmour on Wednesday.
"The SPL has needed a more democratic voting structure since its inception.
"Why have we got an 11-1 vote on things like season start date? Why have we got an 11-1 vote on an Under-21 rule?
"If the offer had been made to change the whole of the 11-1 vote to 9-3, that would've put us in a bit of a position.
"It would've been down to the league format, which is still something we primarily are very against, as supporters are. The league structure's totally wrong.
"How do you sell a supporter a league ticket that after 22 games goes back to nothing?
"We have to get back round the table. We've got to try and get one body. The game's not exactly dying on its feet. The clubs that have a problem are the clubs that are holding carried forward debt."
Gilmour admitted he felt "wounded" coming out of Monday's meeting and indicated that some criticism at the summit "got rather personal".
"We're a bit upset on one or two allegations, particularly allegations of 'you're selling the club'," he added.
"Yes, we're selling the club. Yes, we could've sold the club. Yes, the club's still for sale. But while we're on watch over this club, every decision will be made for St Mirren Football Club as it stands just now."