Gateshead: 'Pub team' inconsistency infuriates Smith
Last updated on .From the section Football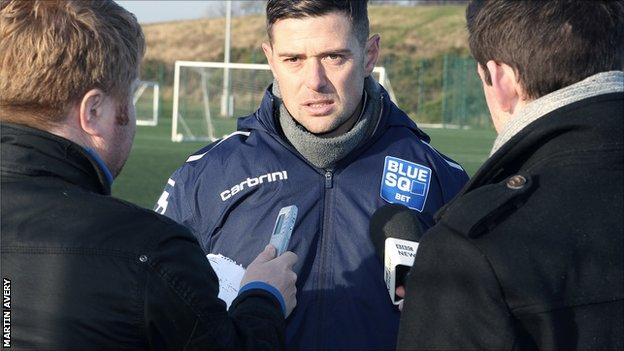 Manager Anth Smith has criticised Gateshead's inconsistency, took the battle against the drop into the final day.
Adnan Cirak's goal levelled in injury time to leave the Tynesiders two points above the drop zone with a game to go.
"It's surreal, there's nothing we haven't uncovered this year, I'm speechless," Smith told BBC Newcastle.
"We've been in front and tossed leads away. We turn up one week we're brilliant, the next we're a pub team."
Smith added: "It was a scrappy game, it was never going to be the prettiest. It was about hard work and endeavour, and whoever wanted it most.
"I'm speechless and it's gut-wrenching. It will go down to the last game because that is what we deserve."
Smith, who replaced Ian Bogie as manager in December, had led Gateshead to a morale-boosting victory against Luton almost a fortnight ago, and followed that up with a draw at Hereford.
However, Cirak's late equaliser denied Gateshead safety.
"We've got a minute-and-a-half left, we should have kept the ball and we give it away," Smith added.
"If I need to tell the players about what has just happened there, then there's something sadly lacking.
"Unfortunately, you can't play the game for them and it's about making the right decisions at the right time."