Southport manager Liam Watson to leave at end of season
Last updated on .From the section Football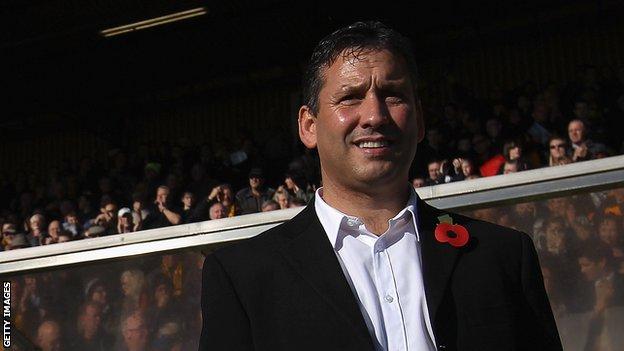 Liam Watson will leave his position as manager of Southport following their final Blue Square Bet Premier game of the season against Luton on Saturday.
He guided the Sandgrounders to seventh place last season, but their survival having only been confirmed on Tuesday.
"I feel it right that both the club and myself move on from here," he said.
"I need to refresh my batteries, take a break and see where my career now goes," Watson told the club website.
The 42-year-old is in his second spell as Southport boss, initially taking charge in 2003 for three years and then returning to the club in 2008.
His team won the Conference North title on two occasions - in 2005 and 2010.
"I would like to thank everyone at the club for their support over a long period of time and that is why I am making this announcement now, so on Saturday I can say the goodbyes I feel are needed," he added.
"I believe the club can and will move on, and I hope everyone recognises the part I have played.
"I am proud of the structure we have put together and the club will develop further. I would also like to thank [assistant manager] Dominic Morley for all his support."
Southport chairman Charlie Clapham said the club respected Watson's decision, having given him time to think it over.
He added: "Liam and myself have worked as close as any manager and chairman could, and when Liam stated to me this week he felt it was time to go it really was very emotional for both of us.
"It has been a difficult season - we can not escape from that - but we look forward with optimism after the results on Tuesday night.
"I want to record my thanks and gratitude to Liam for his managerial achievements and also camaraderie and friendship over our seasons together."