New ground key to Cardiff's promotion, says Peter Ridsdale
Last updated on .From the section Football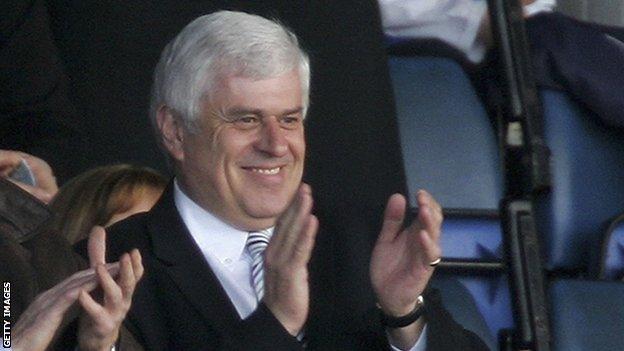 Ex-Cardiff City chairman Peter Ridsdale says the club owe their place in the Premier League to their new ground.
Ridsdale, who left the club in 2010, said the Cardiff City Stadium had been the key to attracting the Bluebirds' Malaysian investors.
"Cardiff City would not be in the Premier League without the new stadium," the 61-year-old said.
Malky Mackay's team clinched promotion with a 0-0 draw at home to Charlton Athletic on Tuesday.
Ridsdale was first asked to help the club in 2005 on a consultancy basis by former owner Sam Hammam. At the time, City were on the brink of administration with debts of £34m, creditors were threatening to close Ninian Park - the club's home since 1910 - and a stadium project had stalled.
Ridsdale became chairman in 2006, and the new ground opened in July 2009. It was its development, Ridsdale maintains, that sparked the interest of Malaysian businessmen Dato Chan Tien Ghee and current backer Vincent Tan.
"Dato Chan Tien Ghee had a son who wanted to become a professional footballer and was looking for a trial in the UK," the former Leeds chairman said. "We gave him a trial and part of that was we were introduced to 'TG'.
"[He was] excited about the new stadium project and we went over and made a presentation to him about the time of the new stadium opening and it went from there really.
"TG introduced me to Vincent [Tan] and then eventually we got over the line and got the investment in."
"TG" became chairman after Ridsdale's departure, while Tan has ploughed in more than £35m and driven the rebranding of the club that saw their home colours switch from blue to red.
While Chan Tien Ghee left as chairman earlier this season, Tan remains the financial force behind the club and has pledged up to £25m for squad strengthening following promotion.
This financial situation is a far cry from the one Ridsdale inherited. Then, turnover was only £9m per season, so the club was forced to generate funds in the transfer market by selling players such as Aaron Ramsey to Arsenal, James Collins to West Ham and Roger Johnson to Birmingham.
In the absence of a new ground, Ridsdale also sought to raise cash with the "golden ticket" scheme, where for two weeks in December 2009 fans who renewed their season ticket were offered a five-year price freeze and promised that, if the Bluebirds made it to the top flight, they would get their money back.
About 10,000 people took up the offer, which brought in approximately £3m.
The initiative proved controversial, however, and Ridsdale was accused of misleading fans when promises that the money would be put towards the purchase of new players failed to be realised, in part because of an unpaid tax bill. Supporters complained to Cardiff council's trading standards department, but all charges were dropped.
In 2012, Ridsdale also gave a voluntary undertaking not to act as a director for seven years following the collapse of his private consultancy company.
"The club had been swamped with debt when I arrived, debts that it couldn't repay and the new stadium was a catalyst for being able to repay that," Ridsdale continued.
"Ninian Park was past its sell-by date - it wasn't an all-seater stadium. It had debts that were dragging it down and there's no way that new investors would have come in at the stadium we left behind."