Dundee United face bill over Damian Casalinuovo

Last updated on .From the section Football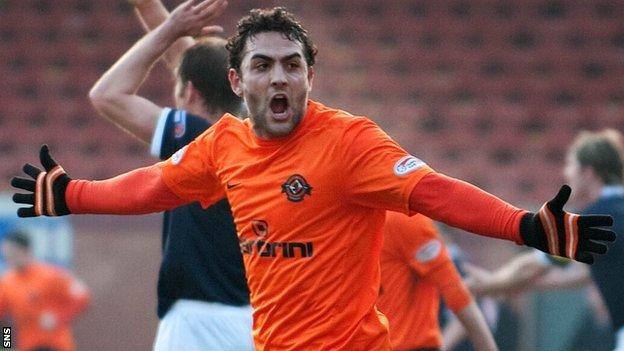 Dundee United have been ordered to pay 230,000 euros in compensation for the signing of Damian Casalinuovo.
The Argentine striker featured 25 times for the Tangerines and previously played for Vélez Sarsfield.
United had originally been ordered to pay 400,000 euros by a Fifa tribunal, which was subsequently reduced to the current figure on appeal.
The Tannadice club are also appealing to the Court of Arbitration in Sport against the revised figure.
Having spent a spell on loan at Raith Rovers from United, Casalinuovo subsequently joined Hamilton and returned to Raith last year.
United understood that no transfer fee was due for the player.
"Its been all the way through Fifa, we've now appealed to the Court of Arbitration for Sport," Dundee United chairman Stephen Thompson told BBC Scotland.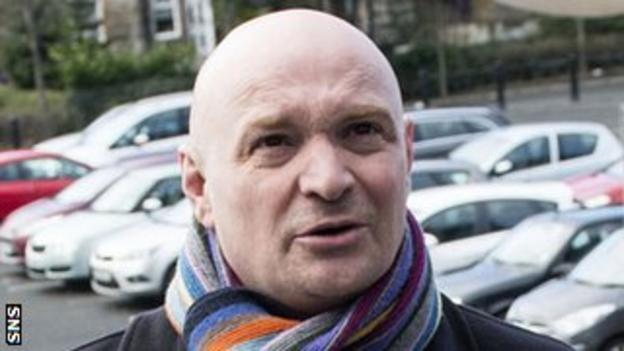 "You're talking about a couple of hundred thousand pounds. That's hard, it's a lot of money. It's in the past and I'm not going to blame anybody for anything, because I don't really know who was to blame at the time."
Meanwhile, Thompson believes recent Scottish league restructuring attempts are "finished".
And Thompson revealed that failure to agree a deal could cost his up to £190,000 in lost income next year.
"It's time to move on and deal with any consequences there are from it," he said.
"We spent a lot of time going down to Glasgow and meetings all over the place. It's not going to happen and we move on and I'm going to concentrate on my club now.
"We currently have no sponsor for the SPL next year. It was £2m I think this year. I've done a calculation based on between £130,000 and £190,000 [in] lost income from the SPL next year, which is tough.
"You could be talking three or four players perhaps in terms of how it relates to wages."