Ebbsfleet United: MyFootballClub consider takeover bid
Last updated on .From the section Football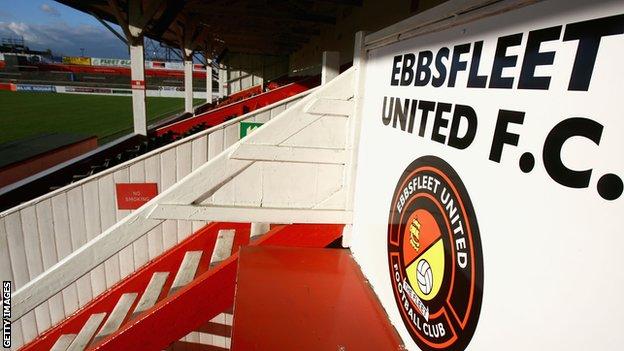 The owners of Ebbsfleet United are considering a proposed takeover of the relegated Blue Square Bet Premier club.
The website MyFootballClub currently owns 75% of the Fleet, who need £100,000 to avoid administration.
Carlos Kabir Karani, who is involved in football in the Canary Islands and Spain, is the man behind the bid.
Ebbsfleet chairman Jessica McQueen told BBC Radio Kent: "The club is on the brink of a lot of things. The club is not well."
She added: "It would be lying to say we have cash under the chair. We haven't. We are basically looking down the back of the settee."
MyFootballClub acquired their majority shareholding of Ebbsfleet in February 2008. The fans' community website had over 27,000 members when they took over the Stonebridge Road outfit, but that figure has since dwindled to around 1,000 and the club are struggling financially as a result.
MyFootballClub's members have put in an extra £50,000 of funding this season and McQueen has confirmed that the club need a further £100,000 by the end of the month to stay afloat.
Karani's proposal hinges on offering long-term deals to foreign players who would be enticed to England by agents with whom he has close ties.
"There was an article in the newspaper saying they needed a white knight who could bring a squad and I thought that's me, as I have a lot of young players," Karani told BBC Radio Kent.
"We have a huge network of agents working with us, from Jorge Mendes to Paco Casal in Uruguay, who are willing to help.
"We have got a good possibility to force deals with players who we have been working with for a long time and we think it is an opportunity.
"The players don't care about the wages. They want to make their name, learn English and get promoted to another club.
"I am not going to lose interest. I am going stay in the club forever unless a sheik or an Arab comes and gives me £20 million or £30 million. I want to become old in Ebbsfleet."
Should the owners of the other 25% of the club turn down the option to buy more shares, MyFootballClub members would vote on whether to approve Karani's takeover plans.
Members of the Fleet Trust, the Kent club's supporters' trust, voted to back the proposal following a meeting with Karani at Stonebridge Road on Wednesday.
Earlier this season the Fleet Trust voiced its concern at "the viability and sustainability of the football club" under the ownership of MyFootballClub.
Another fan group, Fleet Against MyFC, has launched a petition calling on MyFootballClub to end its ownership of the club.
"He [Karani] is assuring us all that there is money behind this and he does have investors," McQueen continued.
"He has lots of ambition about young players and taking the club forward. It is not a straightforward situation."
McQueen admits that the MyFootballClub ownership model makes it difficult for any potential sale to be completed.
"The complexity of it doesn't help," she said. "Rather than sitting around the table with one owner you have nearly 1,000.
"Everyone is entitled to have a say and voice their opinion but it makes it a bit more long-winded."
Kevin Rye of Supporters Direct, which helps fans achieve greater involvement and ownership of their club, described Karani's proposed takeover of Ebbsfleet as "back-of-a-fag-packet stuff".
"To hear a supporter say MyFootballClub are preventing investment from someone shows the desperation people are in and exposes the way that club is being run, which is not in a sustainable way," Rye told BBC Radio 5 live's Non League Football Show.
"They have got to get a grip of that business rather than run after a guy who is promising four-year contracts and saying it's okay.
"It is one of the worst proposals I have ever seen put to anyone. I don't buy it."