Cowdenbeath chairman Donald Findlay blasts 'bleating' SPL chairmen
Last updated on .From the section Football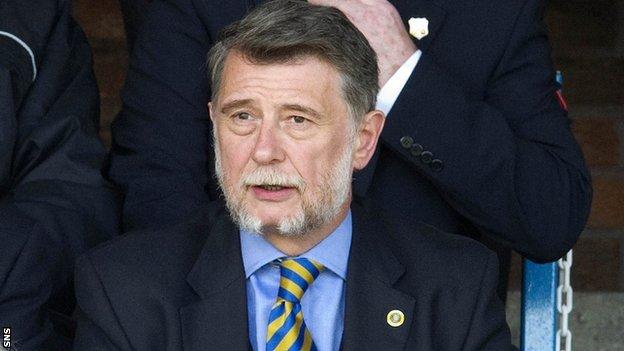 Cowdenbeath chairman Donald Findlay has blasted Scottish Premier League chairmen who complained about the result of Monday's restructuring vote.
The SPL's reform plan was rejected after St Mirren and Ross County voted against the plan.
Aberdeen and Hearts have both complained publicly about St Mirren chairman Stewart Gilmour's rejection of the plan.
"What we are seeing now is a fit of pique," said Findlay.
"They think everybody else should just behave like a bunch of nodding dogs. They are now not happy because some people have said no.
"All this bleating that is going on is quite comical."
Findlay, a former vice-chairman of Rangers, claimed the angry responses are the result of SPL chairmen realising they made a mistake in not admitting his former club into the SPL last summer.
"What I find ironic is the hysterical reaction of certain Premier League chairmen who kicked Rangers out of the SPL for whatever reason," he said.
"Suddenly they have realised they have made a big mistake and now want them back in (the same league body) as quickly as possible - but they haven't got their way.
"Well, hell mend you, you shouldn't have kicked them out in the first place.
"It's far too easy to blame the likes of St Mirren and Ross County for what they have done. Of course it is.
"The problem with the Premier League is that the people who should make themselves out to be the scapegoats are the ones who kicked Rangers out."