Leyton Orient to offer 1,500 free season tickets to youngsters
Last updated on .From the section Football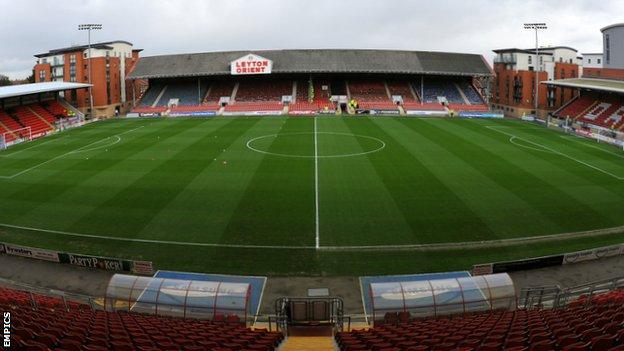 Leyton Orient chairman Barry Hearn has announced the club will give away 1,500 season tickets to teenagers and full-time students next season.
"I hope this will be the dawning of a new era," Hearn told the club website.
"Orient will always be a real community club that continues to fight our corner despite being the underdog when you look at the threats we face."
This season Orient have an average league attendance of 3,947 at the Matchroom Stadium, which has a capacity of 9,300.
The announcement of the scheme comes a day after Orient announced a pre-tax loss of more than £1.4m for 2012, with their ongoing legal battle over the Olympic Stadium partly responsible for that figure.
Any teenager aged between 14 and 18 or any student between 18 and 21 with a valid NUS card will be eligible to register their interest for tickets, which will be located in the East Stand at Brisbane Road.
Hearn added: "This is the first stage of bringing back life and future to Leyton Orient and attracting new fans.
"A free season ticket provides someone the chance to not only come down and stand up for their local club but also, most importantly, to watch some exciting football and develop a lifelong affiliation with the club.
"We have had a good season this year and the foundations are in place to build on that for next season and really give it a good go.
"Nothing beats the magic of live football with your mates when you are a teenager and I want as many people as possible to have that opportunity."
Meanwhile Hearn has reiterated his determination to fight the decision to award the anchor tenancy of the Olympic Stadium to West Ham.
Hearn wanted to groundshare with the Premier League club and is seeking a judicial review of the bidding process, which was run by the London Legacy Development Corporation.
"We think we have been unfairly treated. We are not going to be bullied out of this.
"We will continue to fight the decision to deny us the opportunity to move to the Olympic Stadium but we will fight it in our own backyard and will not be squeezed out.
"I will not walk away from it. I know it is expensive but it is our right to fight."