Libya to build 11 stadiums for 2017 Africa Cup of Nations
Last updated on .From the section Football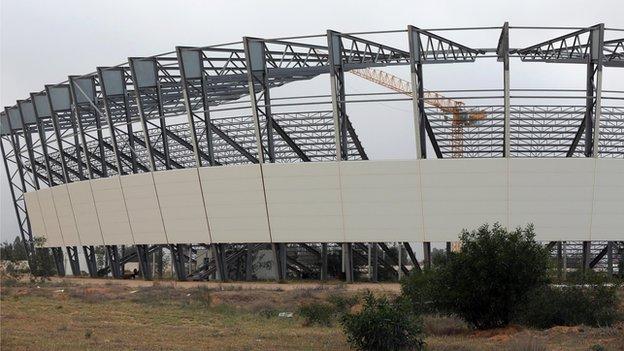 Libya plans to invest 400 million dinars ($314 million) on building stadiums this year as it prepares to host the 2017 Africa Cup of Nations, the deputy prime minister said.
It is hoped that football can unify the country after its 2011 war.
"Just like Nelson Mandela unified South Africa, we hope to unify Libya under this cup," Libyan Deputy Prime Minister Awad Ibrahim Elbarasi told Reuters.
Libya had originally been scheduled to host the 2013 Nations Cup.
Precarious security saw South Africa, who had been down for the 2017 event, hosts the event instead.
Last month, Libya said it would use all its resources to ensure that it kept the right to host the 2017 finals.
"We will resume construction of these stadiums in June and have asked the government for a budget of 400 million dinars to build 11 stadiums this year," added Elbarasi.
Libya plans to build a new 60,000-seater stadium for the hosting of the 2017 African Nations Cup finals, Sports Minister Abdussalam Guaila told local media this month.
A second stadium for the tournament, seating 23,000 spectators, is planned for the coastal city of Misrata. Matches would also be held in the eastern city of Benghazi, Libya's second biggest city, the Libya news agency reported.
Hosting the African Nations Cup finals would allow Libya to demonstrate that life has returned to normal in the country and encourage investors, Elbarasi said.
He added that Libya's interior ministry was taking all necessary measures to ensure safety and security in the country, still awash with weapons left over from the 2011 uprising that ousted Muammar Gaddafi.
"The security situation is exaggerated from reality. We're actually in a much better position than many of our neighbours," he said.
Meanwhile, world football's governing body Fifa has lifted a ban on Libya hosting matches, the Libyan Football Federation said.
The move comes after a decision last month by the Confederation of African Football (Caf) to again allow continental club competition matches to be hosted in Libya.
"They (Fifa) only informed us [on Wednesday] that the ban on Libya stadiums was lifted," Anwar al-Tashani, president of the Libyan Football Federation, told Reuters.
He said the first game would be played in Tripoli between Libya and Democratic Republic of Congo.
Previously Libyan clubs used neutral venues to host their matches while the Libyan national side have played 'home' World Cup and African Nations Cup qualifiers in Mali, Egypt and Tunisia over the last 24 months.