Bury: David Worrall reveals board are yet to speak to players
Last updated on .From the section Football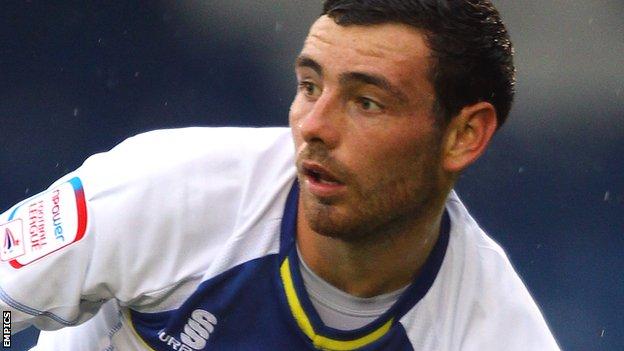 Bury midfielder David Worrall has revealed that none of the directors have spoken to the players about the financial situation at the club.
"I'd like someone to come and speak to us no one has come in so we're all just scratching our heads," he said.
"If that is the way they want to be fair enough, they own the club, they run it, they can do what they want."
Bury director David Manchester said he had been "encouraged" by the initial response to the plea for money and they had held "positive discussions" with some parties.
"Me personally, I'm disappointed in the people above and I just feel sorry for the fans and the players," Worrall told BBC Radio Manchester.
"I've not got the mortgages and all that to pay for, I'm more worried about them and what they've got to do.
"I feel sorry for the gaffer [Kevin Blackwell] because he didn't want this when he first came here, and if he had have been told, would here be here?
"Fair play to him - he's stuck by it and he could have walked at any point, he's stayed and I've got a lot of time for that."
Worrall is a product of the Bury centre of excellence, making his debut at 16 before a £50,000 move to West Bromwich Albion, where he made just one appearance.
After loan spells at Accrington and Shrewsbury he returned to Bury, initially on loan, before agreeing a permanent deal, and is one of the few players to be contracted to the club next season.
Asked if he could see himself at the club next season, the 22-year-old added: "I'll probably try and sit down with Brian [Fenton, Bury chairman] and see what is going on, but if I need to be off the wage bill then we are going to have to sort something out.
"I'd love one season in the Championship just to see if I'm good enough. If I'm not then fair enough."