Nigerian pair ready to shine at Kilmarnock
By Oluwashina Okeleji
BBC Sport, Lagos
Last updated on .From the section Football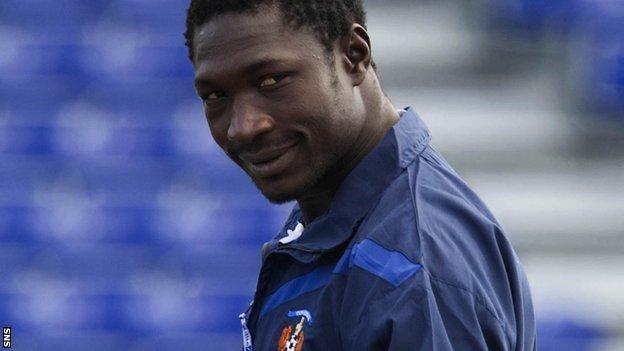 Nigeria duo Gabriel Reuben and Papa Idris have followed similar paths to the Scottish Premier League, shining at Kano Pillars before switching to Kilmarnock in March.
Reuben, 22, is a disciplined midfielder whose biggest strength is his ability to break down oppositions play.
He was a member of the Super Eagles squad that won the Africa Cup of Nations in February but he was prevented from playing after being struck down by chicken pox.
Central defender Idris, 23, has also played for the senior team but he too missed out on the success in South Africa, because of injury.
The pair, who both started out at Kaduna United, are now focused on playing well at Kilmarnock to arrive at their ultimate destination - the Super Eagles starting 11.
"I'm a realist and this club has given me a great opportunity to live my dream," Reuben told BBC Sport.
"If I do well here, I know it will give me a chance to fight for a regular spot in the Super Eagles squad.
"It's one step at a time. The only thing I am focused on at the moment is to give my best and play regularly for Kilmarnock."
At Kano Pillars, Reuben was part of the team that won the Nigerian Premier League title and cemented his place in the Nigeria squad, winning nine caps.
Last year, he was man-of-the-match in Nigeria's qualifiers against Malawi and Rwanda respectively.
His goal in Blantyre secured a 1-1 draw for the Super Eagles against Malawi in a World Cup qualifier.
While Reuben may lack explosive pace, his biggest asset is his intimidating physique which he uses to great effect to ward off opponents.
Idris, who also signed a three-year contract before the 31 March registration deadline, is also hoping to pin down a role at the Ayrshire side.
"Before my injury I was extremely confident of breaking into the Super Eagles squad and that hasn't changed," said Idris.
"I've made it to Europe now and also prepared to work extremely hard to become a regular.
"Kilmarnock has given us a platform to show what we can do at a top level.
"It's been a long journey to get here and I can't wait to prove myself in Scotland."
The pair share an agent in Tony Harris, who is confident Rugby Park is the best place for his clients to fulfil their ambitions.
"They both want each other to do well, it is not about them as individuals," Harris told BBC Sport.
"Given a chance Reuben can get the media talking about him being the next Patrick Vieira while Idris is clearly a rising star.
"They are definitely still learning. There is loads to learn - hopefully they can do that at Kilmarnock and progress their careers.
"They have come to the right club and under a manager that is convinced they will get a chance."
Kilmarnock manager Kenny Shiels already has Nigerian Rabiu Ibrahim in his team and believes the number of players from the West African country is "adequate".
"Definitely not because we'll have three and that is enough. It is totally adequate and it is something we can manage and work with," said the Kilmarnock manager.
"They would be good additions to help develop our young players. They are international players.
"Their people see Kilmarnock as an opportunity to develop them on to a stage where they can go to the English Premier League."
With the Premier League broadcast across Africa, the Nigerian duo say they dream of emulating the success of players like Didier Drogba and compatriot John Mikel Obi.
Kilmarnock has given them the platform to reach that stage, now is the time for them to prove their agent is right.