Celtic boss Neil Lennon's swearing triggers three-match ban
Last updated on .From the section Football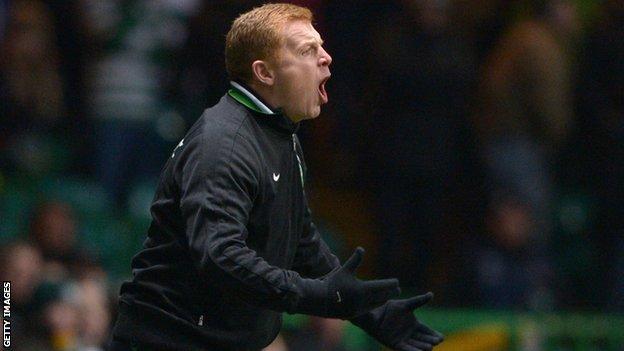 Celtic manager Neil Lennon will serve a three-match touchline suspension after being found guilty of misconduct at a Scottish FA tribunal.
Lennon was censured for using offensive language during a match at St Mirren Park on 31 March.
No sanction was issued for the breach of disciplinary rule 203 but a suspended three-match ban from last season was triggered.
Lennon has five working days to launch an appeal against the penalty.
And he has hinted that he will make the most of his first chance to air his opinions on the ban, saying on Twitter: "Really looking forward to my press conference tomorrow".
If Lennon does not further contest the decision before the weekend he will be watching from the stand against Inverness CT on Sunday when Celtic can clinch the title.
The 41-year-old was served with a notice of complaint from the SFA after television microphones picked up his side of a verbal exchange with St Mirren skipper Jim Goodwin.
He vowed to challenge the charge of "repeated use of offensive, insulting and abusive language".
But the complaint was upheld, with the deletion of the words "repeated" and "insulting and abusive".
Lennon was given was given a six-match touchline ban for his conduct at last season's Scottish Cup semi-final, with three of those games suspended over this term.
On that occasion, he was found guilty of breaching three rules after rushing on to the pitch at full-time following a defeat to Hearts at Hampden to confront referee Euan Norris.
Celtic released a statement expressing their dismay at the SFA's verdict.
It read: "Clearly we are extremely surprised and disappointed by today's decision.
"Fundamentally the particular disciplinary system in place is absurd - a system where such a case can be brought on the strength of two 'complaints' from people totally unconnected to the match in question, while a fourth official overseeing the technical area during the match makes no mention of any incident to the SFA.
"Despite even supportive comments from numerous individuals including Jim Goodwin himself, this judgement has been made, something which we find quite astonishing.
"It is clear that this decision will have huge repercussions for the game in Scotland and we are sure Hampden Stadium will be a very busy place now every Monday morning."