Manchester United champions: Where the title was won and lost

By Phil McNulty
Chief football writer
Last updated on .From the section Football569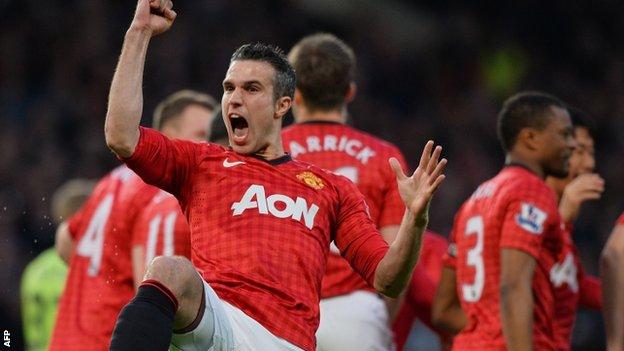 As Sir Alex Ferguson stood at Sunderland's Stadium of Light swallowing the bitter disappointment of being only 100 seconds away from Manchester United's 20th title, he had an ominous message for his neighbours.
Ferguson's streetfighter defiance surfaced as he said stone-faced: "They know I'm not going away."
Manchester City and manager Roberto Mancini knew that anyway - but Ferguson has been as good as his word, and United have swiftly put the pain of 13 May 2012 behind them by convincingly regaining the Premier League title.
The merits of United's squad and the complacency that appeared to grip Manchester City in the afterglow of winning the title will be debated later but one thing must not be denied. Ferguson's side are worthy champions and have been the best side in the country for the last nine months.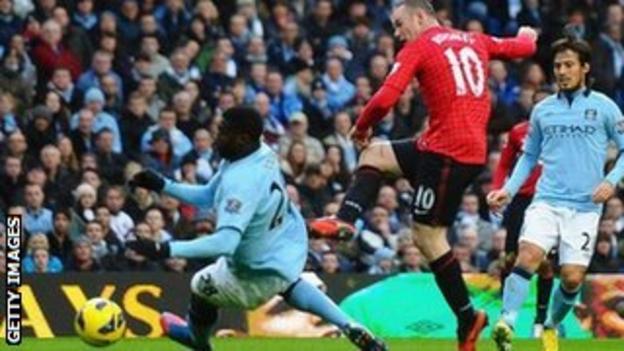 The league table may tell a few fibs around the middle but it never lies at the top.
Ferguson would have been planning for this moment in the time it took for news of Aguero's goal to travel from Etihad Stadium to the Stadium of Light. And one factor will have figured largely amid his thoughts.
Robin van Persie had indicated he would be leaving Arsenal and all the early smart money was on the striker following a well-worn trail of former Arsenal colleagues such as Gael Clichy, Emmanuel Adebayor, Kolo Toure and Samir Nasri to Manchester City.
None of Ferguson's money was. This was his chance to not only make a statement of intent but also to make the signing that would ensure the temporary shift in Manchester's balance of power would be swiftly corrected.
Weeks of delicate personal negotiation with Arsenal manager Arsene Wenger - "he could run a poker school in Govan", joked Ferguson - ended with Van Persie arriving at Old Trafford for £24m.
He was handed the number 20 shirt in pursuit of that 20th title and £24m was the price. His goals gave United the added impetus and X factor that won the Premier League. Van Persie has been that important.
The Netherlands striker may have endured, only by his standards, a dip in form in the latter part of the season but he did the damage early on.
In footballing and psychological terms, the signing of Van Persie ticked all Ferguson's boxes. It irritated Mancini that City could not close the deal, a feeling that still appears to fester, and provided United with their match-winner, the title game-changer.
Perhaps the old swagger of previous years has been absent from United's play this season but a title triumph should never be downgraded. United have done what they had to do. Solid. Unspectacular. Champions.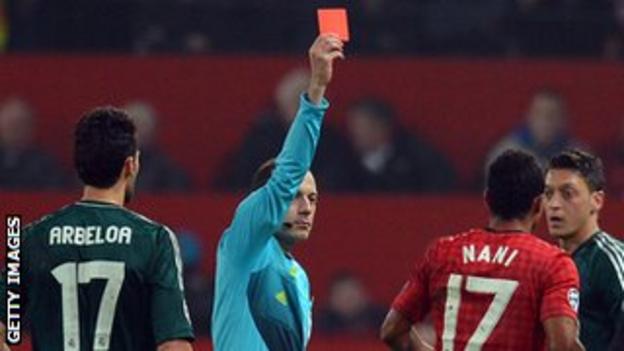 Ferguson's players have shown remarkable consistency in the league, regularly delivering a level of performance that won games. It has been the stuff of title winners.
In his programme notes for the recent Manchester derby defeat by City at Old Trafford, Ferguson allowed himself to reflect on the season.
He wrote: "How do we analyse this season - is it one of regret or celebration? For me it is something of the curate's egg, part bad but with great redeeming features."
Manchester City may have looked the best team in the country for the last month - Sunday's capitulation at White Hart Lane apart - but in the title equation that works out at precisely eight months too late.
Of course the Champions League brought disappointment again, complete with a sense of injustice against Real Madrid, and has even persuaded a few to view United's Premier League win as some sort of unfulfilling consolation. This is an insult to Ferguson and his players.
Yes, Ferguson desperately wants to win his third Champions League and the FA Cup loss to Chelsea was also a blow - but if winning the title is a consolation, the likes of City, Chelsea and Arsenal would love some of the same.
In those programme notes for the City game, Ferguson said the Chelsea defeat was his biggest disappointment as he put defeat to Real Madrid down to circumstances beyond his control after Nani's controversial sending-off.
He added: "What could we have done differently? The answer is not a lot so I don't dwell on things that have simply not gone our way and that we could do nothing about."
City's defence has been disappointing and can also be traced back to last summer. While Ferguson pursued Van Persie with ruthless zeal, there may have been an element of resting on laurels at Etihad Stadium as their signings fell into the strictly B-list category.
Those transfer market battle lines will soon be drawn again.
Once the party has concluded, Ferguson will reset his sights and will surely be aware that there is much work to do.
Just as he warned City he would not be going away, the same mantra will be used by the Blues this summer.
They will be wounded that expectations have not been met and Ferguson must, and certainly will be, braced for a fight with the financial firepower wielded across Manchester.
And what of Ferguson? Never one to stand still, in his quieter moments he must reflect on a Manchester United squad that needs renewal, not only to retain the title but also to enjoy the success in Europe that evades them too often.
Ferguson insists Wayne Rooney is going nowhere but he has not been the player he was this season, a vital sign the manager rarely misses, and his status as United's talisman has been taken by Van Persie.
No matter how much Ferguson tried to downplay it, the fact that he felt able to start against Real Madrid at Old Trafford without a player for so long regarded as indispensable was a decision of huge significance.
Goalkeeper David De Gea has shown growing maturity this season but there are ageing players around him who Ferguson will be looking to eventually replace. They will be of service for now but the manager always plots for the times ahead.
Patrice Evra is 32 in May and may be vulnerable. Rio Ferdinand is 35 in November and the increasingly injury-troubled Nemanja Vidic will turn 32 a month earlier.
Ferdinand and Vidic have enduring quality but Ferguson will be hoping Chris Smalling and Phil Jones, as well as Jonny Evans, stay fit long enough to establish themselves as United's central defence of the future.
Paul Scholes, 38, is surely coming towards his second retirement while even the magnificent Ryan Giggs - 40 in November - will eventually be caught by the passage of time.
Is Nani worthy of the lucrative new deal he feels he warrants and will Anderson ever consistently fulfil his potential? And is England's Tom Cleverley fully equipped at the highest level? None of these questions have produced a definitive answer.
The feeling lingers that United still lack that world-class midfield operator to work alongside Michael Carrick and is something Ferguson must resolve, especially if United are to win the Champions League once more.
Ferguson will be watching closely as ever. The rebuilding has already started with the signing of winger Wilfried Zaha, who arrives from Crystal Palace this summer, while many good judges tip Nick Powell as a certainty to emerge as one of the best players of his generation.
The Scot is masterly at building and refurbishing Manchester United's teams and shows no signs of losing his desire to do so again. He will, as ever, examine United's season and United's players in minute detail.
He is not going away - even with his 13th title secured. He and United are worthy champions.