Sir Geoff Hurst: Cardiff City fans must be patient after promotion
Last updated on .From the section Football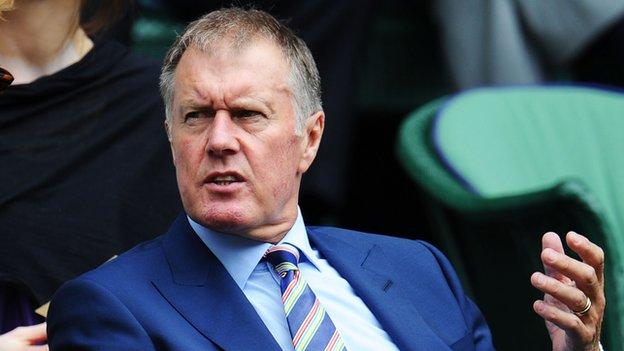 England World Cup legend Sir Geoff Hurst has warned Cardiff City fans to be patient after their promotion to the Premier League.
He also urged the club's owners to be cautious about spending too much money in their first year in the top flight.
And Hurst, who scored a hat-trick in the 1966 World Cup final, has fond memories of playing against Cardiff.
"It's just disappointing we've had to wait 51 years for them to come back [to the top flight]," he said.
Cardiff clinched promotion with a 0-0 draw at home to Charlton on Tuesday, claiming a place in English football's top flight for the first time since 1962.
Hurst believes they, like most promoted teams, will find it tough against the "big boys".
"It's going to be very difficult, let's make no bones about it," he said.
"I think they've got to be careful about spending too much money.
"I think one or two clubs have come up in years gone by and spent a fortune and sometimes if you don't get it right and you go straight down it can put the club in further trouble.
"I think it's getting up, staying up and just a gradual improvement.
"The big thing against a club coming up [is] fans sometimes expect too much of all clubs, this isn't a criticism of Cardiff.
"But it's improving by one position a year.
"Everything's got to be right. The manager's got to be there, the team spirit's got to be good. I think you need to improve it a little bit but not go overboard."
Hurst recalled playing for West Ham against the Bluebirds the last time they were in the top flight, and an unorthodox role played by another England hero of '66.
"We played them at Easter '62 home and away," he said.
"Martin Peters, my great World Cup colleague, made his debut against Cardiff and in one of the games he ended up in goal because the goalkeeper was injured!"
Swansea City manager Michael Laudrup has praised Cardiff City's promotion success, and its importance to game in Wales.
"I think for Welsh football to have two teams in the Premier League is a great achievement," he said.
"And I know from the fans of the two teams that it will be two very interesting games next season."
Laudrup, whose Swansea team lie in ninth place in the Premier League, said it was natural for bookmakers and pundits to class Cardiff among the clubs most likely to be relegated next season.
"That's the same everywhere, [of] the promoted teams always at least one will go immediately down, maybe two," Laudrup added.
"So that's why always you look at the three that are coming up and you say they are among the favourites to go down.
"I think it's something you have to accept for some years and it has to make you stronger to say 'no, I want to do it, I want to sstay up'.
"And then when you stay up for a certain number of seasons - I don't know exactly how many - suddenly you are not among the favourites because you have earned the right not to be one of the favourites."