Man Utd will suffer jitters - Man City coach Brian Kidd
Last updated on .From the section Football334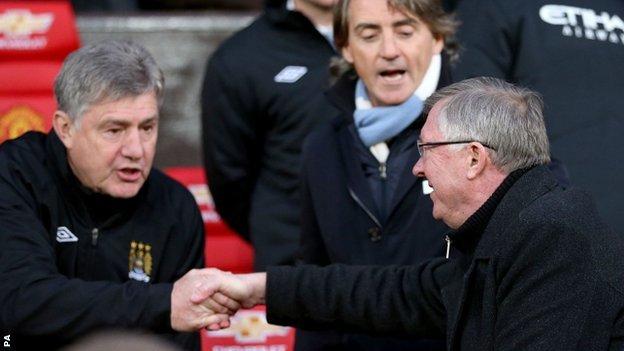 Manchester City coach Brian Kidd says league leaders Manchester United will have been affected by last season's capitulation and will suffer "jittery" moments in the title run-in.
United, who hold a 13-point lead, will win the Premier League on Monday if they beat Aston Villa and City, who overturned an eight-point deficit last season, lose at Spurs on Sunday.
"There will be some jittery moments," said Kidd. "What happened last year - it was a bad experience for them. They will have been shocked by it."
The former Old Trafford assistant manager, who also played for United and City, added: "It's not over until it's mathematically finished with."
City won their first top-flight title in 44 years thanks to two late goals in stoppage time in a dramatic 3-2 win over QPR on the last day of the season.
Minutes earlier, Sir Alex Ferguson's Manchester United had thought they had won their 20th league crown with victory at Sunderland.
United currently have 81 points with five games remaining, while City have 68 points with six fixtures left to play.
Kidd, 63, believes his club, who have booked their place in the FA Cup final against Wigan, can again snatch the title against the odds.
"I think both teams can go to the end of the season without losing, but both teams can drop points as well," continued Kidd, who was Ferguson's assistant at Old Trafford between 1991 and 1998.
"You have got to be in the slipstream if the team above you drop points. Nobody thought that United could have dropped eight points in six games, but it happened.
"There are stranger things in football and I think it would be poor if we thought it was all over.
"It could turn out a great season for Manchester City. We could win the league and we could win the cup. What a great season."