Manchester United's Ashley Young out of run-in with ankle injury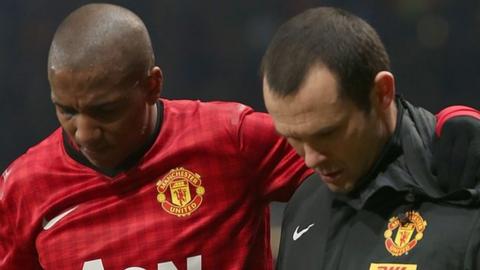 Manchester United winger Ashley Young has been ruled out for the rest of the season with an ankle injury.
The England international limped off in the last minute of United's 2-1 derby defeat by Manchester City on 8 April.
Manager Sir Alex Ferguson had expected Young, 27, to be out for a fortnight but has now revealed he will miss the Premier League leaders' run-in.
Ferguson told MUTV: "We're going to lose him for the rest of the season. It's unfortunate and it's a bad blow."
Young has started 17 Premier League games for United this season but missed all of September and most of October with a knee injury.
He was also absent from 13 January to 18 February after sustaining another knee injury in the 2-1 victory over Liverpool.
Young was at United's 2-2 draw with West Ham on Wednesday night but turned up on crutches.
Ferguson said: "We thought it'd be maybe two or three weeks but now he's been down to the specialist and that's why you saw him at the game on Wednesday.
"We took him down to a specialist in London and the prognosis was not very good at all. We're going to lose him for the rest of the season."
United take a 13-point lead over Manchester City, who have a game in hand, into the weekend's fixtures.
City are at Tottenham on Sunday with the Red Devils facing Young's former team Aston Villa at Old Trafford on Monday night.