Irish FA job losses likely but association set for 2012/13 surplus
Last updated on .From the section Football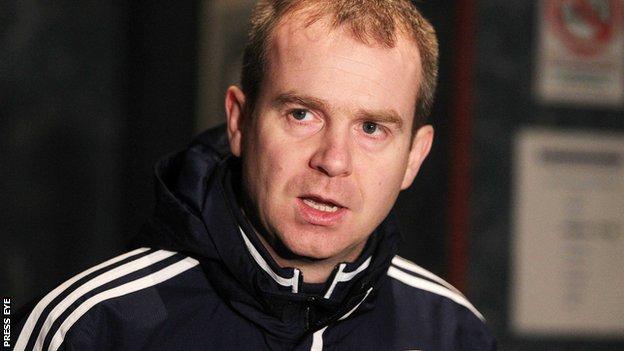 The Irish FA has said a restructuring of the association is likely to lead to job losses within the governing body.
Media reports this week have suggested that poor tickets sales for recent World Cup qualifiers has put the Irish FA under major financial pressure.
However, IFA communications chief Geoff Wilson says the body is likely to post "a small surplus" for the last financial year to March 2013.
But Wilson added that redundancy may be offered to "a small number of people".
"This is not that there is going to be widescale redundancies," Wilson told BBC Sport Northern Ireland.
"What this is about is that we are looking at the strategic direction of our business.
"We are looking at reorganising internal aspects. Some people might be able to put their hands up and get a (redundancy) package."
The Belfast Telegraph reported on Friday that an email from the association's chief executive Patrick Nelson to staff members earlier this week had said that structural changes within the governing body could include redundancies.
Wilson confirmed to the BBC that "there has been a communication with the staff".
The Irish FA spokesman added that the redundancies could be offered to "all levels" of the organisation's staff.
"Everybody will be affected by the strategic direction to the strategic changes coming through."
However, Wilson rejected reports that the Irish FA is set to post losses of around £500,000 for the 2012/13 financial year.
"We do not anticipate making any deficit for the year ending March 2013.
"In fact, we would be very confident that we would make a small surplus for the last financial year.
"I would stress that our accounts are yet to be audited by an independent audit firm so it is very difficult to give precise figures at this stage."
Wilson acknowledged that "there is a pressure on ticket sales".
The postponement of the recent home World Cup qualifier against Russia was a financial blow for the IFA, but not a crippling one, insists Wilson.
"The shortfall is not as big as half a million. What people have got to realise, that there is a wide range of other funding streams which the association taps into.
"Everything from Uefa to Fifa, right the way through to ticket sales and merchandising."