Brendan Rodgers welcomes Cardiff into Premier League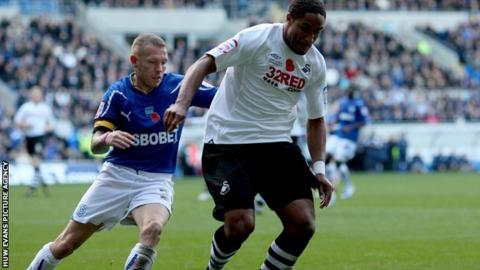 Liverpool manager Brendan Rodgers says Cardiff City are a welcome addition to the Premier League.
Cardiff's promotion will ensure a first top-flight Welsh derby against Swansea City next season.
"Swansea were the first Welsh team in the Premier League and they have gone on to have another terrific season this year," said Rodgers.
"I have always said the Premier League would be a better place with the two Welsh teams in there."
Rodgers led Swansea to the Premier League by winning the Championship play-off final in 2011.
A year earlier under the guidance of Dave Jones, Cardiff had been beaten at the same stage by Blackpool at Wembley.
But the Bluebirds have secured automatic promotion this season, and will be crowned champions if they avoid defeat at Burnley on Saturday.
"I have spoken to Malky and it's a brilliant achievement," said Rodgers.
Mackay was a player and first-team coach at Watford when Rodgers took over as manager in 2008.
He then succeeded Rodgers at Vicarage Road when the Northern Irishman resigned to join Reading.
"Malky has done a great job and built in his first year and reinforced in his second and they have been up there since November," said Rodgers.
"He has done a fantastic job and I am pleased for him because he is a good guy.
"I have known him a while now and like a lot of British managers you have to earn the right and chance to come into the Premier League.
"He has done that and I am delighted for him. He will want to go on and win the league now and then he can prepare in the summer."