Barnsley: David Flitcroft hits out at 'lazy' English coaching
Last updated on .From the section Football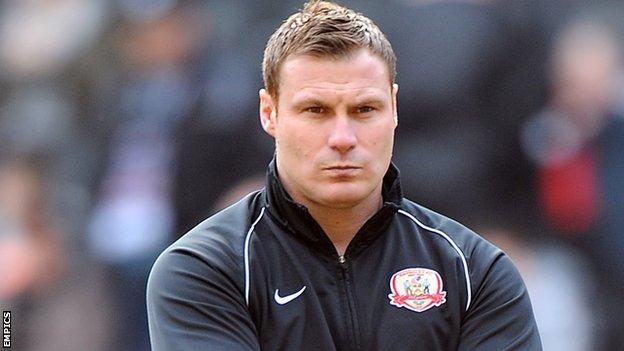 Barnsley manager David Flitcroft has criticised the standard of coaching in English football.
The 39-year-old branded some coaches "lazy" and said they do not take their job seriously enough.
"I think there are coaches in jobs that just go to work, finish and that's it," Flitcroft told BBC Radio Sheffield.
"If you want to be the best at something, you've got to put your 100 hours a week in. I think there's lazy coaches up and down the country."
The former Bury and Rochdale midfielder, whose side are currently in a relegation battle and lie 23rd in the Championship, also believes that more emphasis should be placed on the development of youth players rather than results.
"I don't mind if our under-21's are getting beaten if we have four or five players from that in our squad," he commented.
"I don't want our under-21's winning every game and not producing anyone."
Flitcroft believes that the problem stems from the lack of clear direction within the English game, adding: "We don't know what we want as a country.
"You look at all of the Spanish teams and they all play like the national team play.
"It's an endemic problem in our country that we don't have a style that the national team play.
"You're driven by results as opposed to coaching and dealing with players. The system is about winning and not developing. Sometimes you have to take a step back and develop.
"Everyone is trying to produce a new model, but I don't think we have got an identity as a country as to where we are going, which is probably down to the pressures of winning."