Rangers: Charles Green steps down as chief executive
By Chris McLaughlin and Alasdair Lamont
BBC Scotland
Last updated on .From the section Football687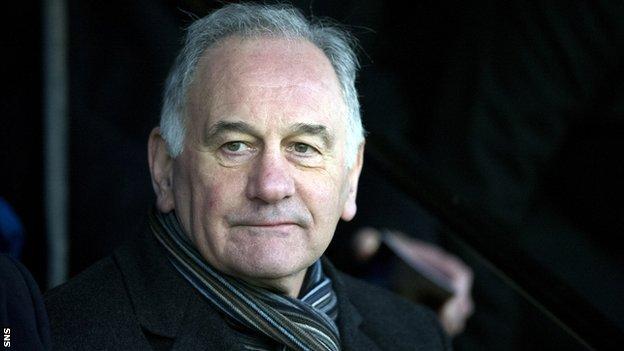 Charles Green has told Rangers' board he intends to leave his chief executive role "with immediate effect".
Green took up the position last summer after leading a consortium that purchased the assets of the liquidated Rangers Football Club plc.
commissioned by the club's board, following allegations of covert dealings with former Rangers owner Craig Whyte.
Green says it's "appropriate" to leave.
A club spokesman told the London Stock Exchange: "Recent weeks have seen media interest in the circumstances surrounding the period prior to the acquisition of the club by the consortium led by Mr Green.
"Whilst Mr Green strenuously denies any wrongdoing, he has recognised that this negative publicity is a distraction and is detracting from the achievements and reputation of the club.
"As a result, Mr Green has informed the board that he will leave his post with immediate effect and leave the company, following an orderly handover, by the end of May.
"The board has commenced the search for a new chief executive and expects the role to attract high quality candidates from both within and outwith the industry. A further announcement will be made in due course."
Yorkshireman Green is the club's single biggest shareholder with just under 8%.
After an unsuccessful attempt to save Rangers FC plc from liquidation, he completed the asset purchase in June.
Green had hoped to take over the Scottish Premier League place previously held by the Ibrox club but that request was rejected by the top flight's members.
Rangers under the stewardship of Green's consortium were subsequently placed in Scottish Division Three for this season and were confirmed as the bottom tier's winners in late March.
However, in April, Whyte threatened legal action to prove he still has ownership over Rangers' assets and released audio recordings of conversations he had with Green and Rangers commercial director Imran Ahmad.
Non-executive directors then commissioned an investigation into the matter and
"Recent events have undoubtedly been a distraction for both myself and all involved with Rangers," Green explained in a statement.
"I am very proud to have been associated with a club of the stature of Rangers and am proud of the achievements of the club during my tenure as chief executive.
"My thanks go to the Rangers fans, whose support has been tremendous during my time at the club."
Rangers chairman Malcolm Murray said "Green was instrumental in helping to secure financial stability for the club".