Martin Allen: Gillingham boss praises 'remarkable' side
Last updated on .From the section Football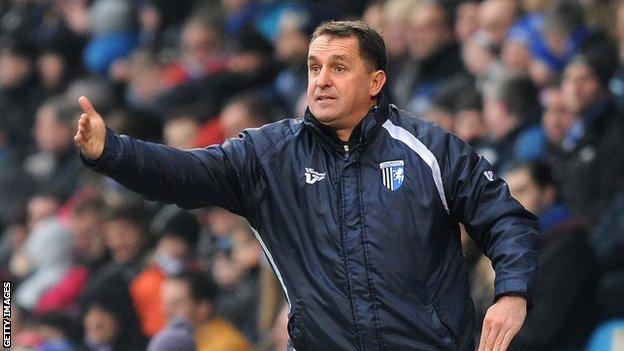 Gillingham boss Martin Allen has praised his "remarkable" Gillingham side and says winning the league title would be a "great" achievement.
A draw at home to AFC Wimbledon on Saturday would be enough for the Gills, who have been top for most of the season, to be crowned champions.
He told BBC Radio Kent: "The only title I've ever won is 'Mad Dog'.
"To be promoted was very, very special for me but to be the manager of the champions would be great."
He added: "I thought we would do well right from the beginning but it has been remarkable.
"It would be very special to everybody - the supporters, the players the staff and myself - and a great day in all our lives."
Allen recorded the first promotion in his 18-year coaching and managerial career when the Kent club beat Torquay earlier this month.
"We have had a few times in the season where we have had to change players.
"There were a few weeks where we haven't played so well and had some not so good results but we always stayed top.
"The players just found extra and kept going. I suppose that is down to the recruitment and the characters and personalities we have got involved."
Allen had a reputation for saving clubs from relegation and mounting bids for the play-offs in his managerial appointments before he was appointed Gillingham boss last summer.
Asked what winning the title would mean for his CV, Allen replied: "I haven't got a CV.
"Honestly. I just ring people up when I'm out of work and say, 'Give us a job'.
"Most of the time they say, 'no'. Mr Scally [Paul Scally, Gillingham chairman] said I should come and have a chat and asked me if I had a laptop presentation.
"I said, 'I haven't got a laptop with me, it's at home'.
"He asked me, 'Where's your CV?'. I said you can look it up on Wikipedia."