Terry Butcher dugout complaint dropped due to lack of evidence
Last updated on .From the section Football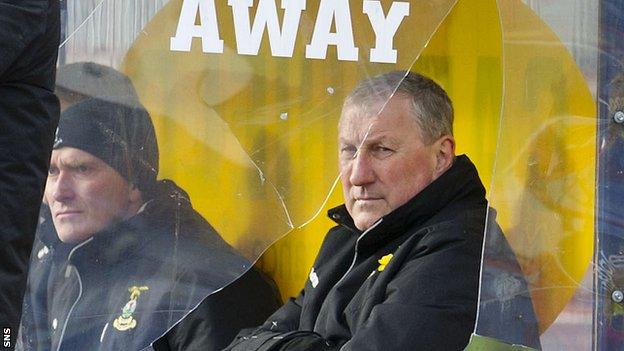 Inverness CT manager Terry Butcher has avoided censure after a tangle with the dugout at Dens Park.
Butcher was issued with a notice of complaint on 9 March for allegedly striking and breaking the plastic canopy around the visitors' bench.
However, following an explanation from Butcher, the case was dropped due to insufficient evidence.
"I had to check the year and make sure it wasn't 1984 and George Orwell was the referee," Butcher told BBC Sport
The Highlanders travel to Celtic on Sunday, with home boss Neil Lennon serving a touchline ban that was triggered by his use of offensive language.
And Butcher thinks his fellow manager has been given a raw deal after the Scottish FA followed up complaints made when television microphones picked up swear words.
"It's an emotional game and you are very much in the public eye," he explained.
"If things aren't going well, or even if they are, you use industrial language. Referees use it all the time as well.
"The fourth officials and referees have got a firm grip now and there are not many managers really stepping out of line.
"It's a horrible job but the fourth officials make sure things are kept in order on the sidelines.
"I think Neil has been very unlucky and has been harshly dealt with.
"I think sometimes the authorities can pry just that bit too much."