Cardiff City manager Malky Mackay ready for 'ruthless' rebuild
Last updated on .From the section Football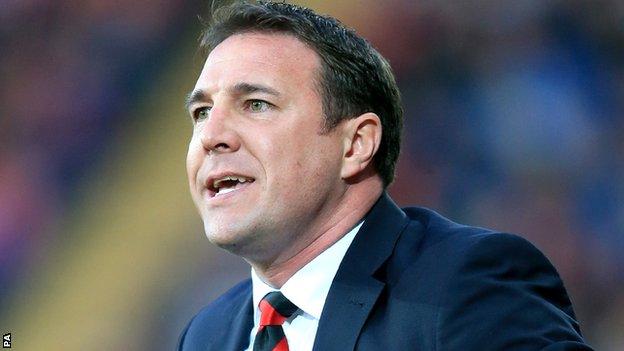 Cardiff City manager Malky Mackay has said he will put sentiment aside as he plans for life in the Premier League.
"I've had to be ruthless from the very first day I came here," said Mackay.
"What we are doing is for the good of the football club. You have to realise life changes and situations change and you have to go with change."
The former Watford boss added: "If you don't then you're left behind. But that's not just me, that's throughout football.
"In end-of-season games, everybody's playing for something, whether you're in contract or going out of contract.
"You're trying to impress every time you walk over the white line so the players know they've got to be playing well to be part of something here next year, which is very exciting."
Following Hull City's draw with relegated Bristol City on Friday, Cardiff will win the Championship title by beating Burnley on Saturday.
Mackay has targeted a return for injured striker Nicky Maynard on the final day of the season against Hull on 5 May.
The former Bristol City player joined Cardiff from West Ham United on a three-year-deal in August.
But the 26-year-old has been out since October after suffering a torn anterior cruciate knee ligament during the win at Millwall.
"The light is there at the end of the tunnel for him," said Mackay.
"He's back in training, which is great and he will hopefully get an under-21 game next week.
"If by Hull, which is two weeks away, Richard Collins in our physio department feels that he's ticked every box in our fitness department and I'm looking at him in training, that's absolutely a possibility."