Ferdinando Valletti: From San Siro to a concentration camp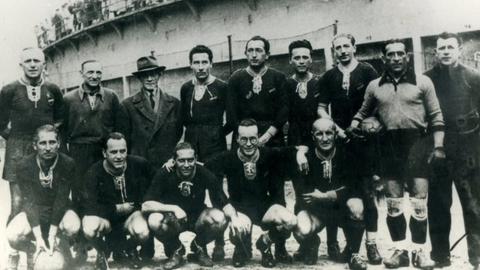 The Second World War interrupted many football careers, but few can claim that the sport saved their lives during those turbulent times.
But that was the case for the former AC Milan player Ferdinando Valletti.
Born in 1921, Valletti was part of the pre-war Milan side which included the legendary Giuseppe Meazza, but in 1944 he was arrested for his part in a strike while working at an Alfa Romeo car factory. He was sent to the infamous Gusen concentration camp.
"He was betrayed by some of his colleagues - he was just 22 - and he was taken to a concentration camp. He left Milan, his family, my pregnant mother all alone," his daughter Manuela told the BBC's World Football programme.
"My mother didn't even know where to find him, or even whether he would ever return. They hadn't really heard about the concentration camps, they had no idea that they existed, so she just didn't know where he had gone."
Unknown to his family, Ferdinando was close to being killed.
But, once his captors learned of his background, he was selected to play in a team made up of SS prison guards. It was a stroke of luck that would help to keep him alive.
"One day, one of the guards had obviously taken note that my father knew how to play football and he took him off the train which was heading for the quarries," she explained.
"He was taken to an SS officer and was asked again, could he play football, and he said: 'Yes, I played football for Milan.' But he knew that it was a bit of a risk to say he could play football, as he was incredibly malnourished and he could hardly stand, let alone play the kind of football he used to play.
"They said: 'OK, let's give it a go; if you told the truth, fine, and if you are lying, we will kill you straight away.'
"He tried very hard to show that he could play well enough, he really pushed himself, and he made it. So that's how he became a reserve player for the SS team."
Italian film-maker Mauro Vittorio Quattrina was inspired by Valletti's dramatic story and has retold it in a recent documentary.
"The conditions (in the concentration camps) were terrible," said Quattrina.
"Hunger, beatings, back-breaking work in the stone quarry with the presence of death at every moment. Valletti weighed 70kg but on his return to Italy he weighed just 35kg.
"In life it also takes a little luck. It was because he played good football that he was transferred to the kitchens. He was the kitchen boy. This fact allowed him to bring food to his friends. Valletti in this way saved many lives".
After the war, Valletti went home to Italy to be reunited with his wife and the daughter he never knew he had.
"I was just 10 months old when my father came home," continued Manuela.
"And from what he told me, he was totally emotional when he met me, he didn't know if I had been born, he didn't know if I was a girl or a boy, and so he just broke down. It was a very emotional and lovely moment for him.
"We had a very special relationship, we were always very close.
"It was a bit of a miracle, because he left not knowing that my mother was pregnant, and it was very emotional for him, and it is for me now thinking back".
Now Manuela is campaigning for AC Milan to honour her father with a permanent memorial.
"I would really like that," she concluded. "Milan have recognised everything - my father is in their archives - but, as his daughter, I would love it if they put up a plaque in the San Siro stadium just mentioning my father and his contribution to the club and what happened to him.
"I would love that and I think my father would be very proud of that too. He was a Milan fan until the day he died. We all are, so that would just be wonderful for us."