Man City: Joleon Lescott admits his future is uncertain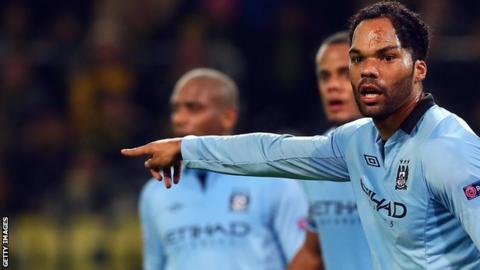 Joleon Lescott admits his future could lie away from Manchester City after asking for some "respect" to be shown.
The England defender, 30, is approaching the last year of his contract with the FA Cup finalists.
"When you're going into the last year of your contract your future might be elsewhere," he told the Daily Telegraph.
"I can't afford to go into a World Cup year being uncertain of whether I'm going to play regularly here."
Lescott signed for Manchester City from Everton in August 2009 for a fee reported to be in the region of £22m.
He has made almost 100 league appearances for the club and helped them win the Premier League title for the first time since 1968 in 2011-12.
But, with his contract expiring next summer, the former Wolves and Everton man wants Manchester City to tell him whether he will be offered a new deal.
Lescott has made 13 league starts this season and was originally left out of England's squad for the World Cup qualifiers against San Marino and Montenegro in March, although was later called up due to injuries.
He said: "If someone said when I signed here 'you're going to win the Premier League, get to two FA Cup finals and represent your country in the Euros' I'd have snapped their hand off.
"So now to go into the final year of my contract uncertain about my future is quite strange. I'd love to stay. My wife's pregnant, we've just moved house, the kids are happy at school. But I'm not naive.
"I feel I've done enough for the club to demand a bit of respect in terms of they come and tell me what they want, whether it's a new deal, which I would be delighted to sign, or to go elsewhere.
"I'm very respectful of the club with what they've done for me, how they were persistent when Everton were digging their heels in to keep me. I owe a lot to the club. I also feel I've done enough to demand a bit of respect to not see speculation about my future."