St Johnstone: Steve Lomas unhappy at Ross County attitude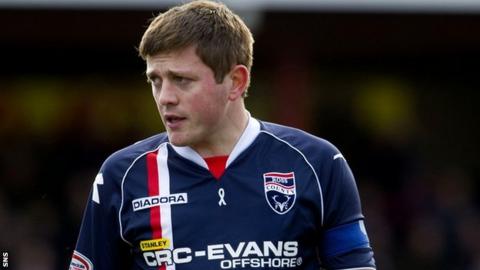 St Johnstone manager Steve Lomas has hit out at Ross County counterpart Derek Adams over comments about Richard Brittain's summer move to Perth.
Adams claimed that Saints were ignoring Brittain's plea to get out of his pre-contract deal, citing family reasons.
"Derek Adams said I blanked Richard, but he blanked Richard to the extent he was begging us to get him out of his contract in January," said Lomas.
"We tried to do that but we were quoted £50,000. He was desperate to come."
Lomas questioned the timing of the news of Brittain's change of heart, with the clubs facing each other on Sunday.
"I hear Ross County knew six weeks ago so why didn't they contact us then?" queried Lomas.
"I have a lot of time for Ross County but I am disappointed that it has come out this week, in the week leading up to the game. That is shabby."
The Saints boss revealed that he had not been in contact with the player since the news broke.
"I haven't spoken to Richard out of respect to Ross County," he said. "I don't think that would be right.
"We feel we made a commitment to him. I turned down the chance to sign three or four players in his position.
"Neither Ross County nor anyone else offered him a two-year deal so we feel he should honour it. Where does it leave pre-contracts if he doesn't?
"We are being made out to be the bad guys but we gave him a two-year contract six months before his contract was going to expire.
"If he gets injured we are obligated."
The Northern Irishman also questioned whether the player had received an improved offer from County.
"The crux of the matter is Ross County have had a good season and things have changed," said Lomas.
"If Ross County have offered him more money then why not just come out and say that?
"I am first to sympathise about family reasons but this is not the end of the world.
"We are two hours down the road, it is not as if we are in Alaska, and we get Sundays and Wednesdays off.
"I just think that if you sign a contract then it should be honoured."