Bournemouth captain Tommy Elphick wants title after promotion
Last updated on .From the section Football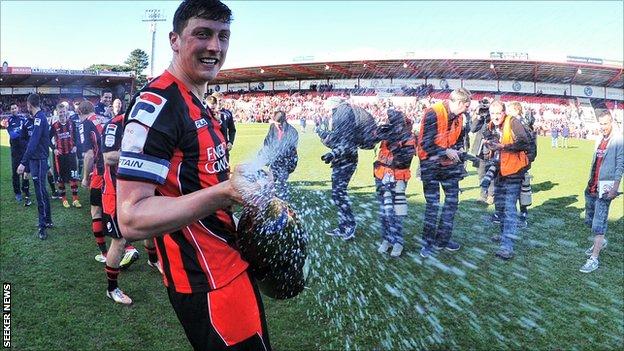 Bournemouth captain Tommy Elphick has urged his team mates to go on and win the League One title after sealing promotion to the Championship.
"It's a great feeling," defender Elphick told BBC Radio Solent.
"The title is there for the taking now so we will remain professional and go again against Tranmere away."
He continued: "The task was always to get promoted and we've done that, so to come up as champions would be even better.
"There is no better feeling than lifting a cup with a group of lads that you love, and for the club you love.
"It's a good feeling, we're going for the championship, winning is a good habit and we seem to be in the habit at the moment."
Elphick, who arrived at the club from Brighton in the summer, admitted their achievement was that much more incredible considering the club were in the relegation zone when manager Eddie Howe took over in October.
And the 25-year-old paid tribute to his team-mates for the way they have responded to their poor start to the season.
"I felt as players, we've matured a lot over the past six months," he said.
"When you look back it is pretty unbelievable what we have done. We assembled a good squad in the summer, it was always going to take time.
"Eddie came in and gave us a new sense of directions and little targets. This squad is so young and there is plenty more to come we are improving all the time."
Elphick also believes that with promotion achieved there is plenty more to come from the squad.
"It's the best thing I've ever done, coming to Bournemouth, and there are some exciting times to look forward to," he added.
"We stuck together. The gaffer has showed us how to win and chase games. There is a purpose to what we are doing and we are blessed to have Eddie and Jason in charge and the squad we've got."