Dunfermline: Administrator counting on fan fundraising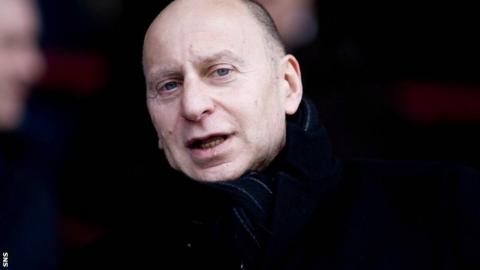 Administrator Bryan Jackson has put Dunfermline's survival at "five in ten" as the club prepares a Company Voluntary Arrangement.
Jackson met fans' groups to discuss a way forward and hopes to navigate a course to the end of the season.
"I probably started at four out of ten, and I've probably crept to five now," said Jackson.
"If the fans' support doesn't continue, the club will run out of cash, so they need to keep the fundraising up."
Dunfermline were granted interim administration last month after facing a winding-up order over a £132,000 tax bill in February and Jackson is keen to provide the club's supporters with an element of certainty as the season ends nears.
"We were looking at the timetable going forward," said Jackson. "Which is going to be really quick, because we're going to have to get a CVA approved before the end of the season to take away the uncertainty.
"We're going to get into a situation where we want to sell season tickets and get in sponsorship.
"We talked about that and the funding required, the sort of things we have to do in advance of it.
"I always worry if there is a future. I worry about today and tomorrow."
The cash-strapped Fifers are working with a community strategy group called Pars United, which has been formed to help save the club, although Jackson is concerned that with only one home match remaining until the end of the season, time is not on their side.
"The problem is going to be when we get to June," said Jackson. "We've got another home game and the cashflow looks okay to get to the end of the season in terms of fixtures, but we can't afford not to get the CVA approved before the end of the season.
"I sometimes get accused of scaremongering, and I don't mean to - but we have to be realistic.
"It's not in my hands, it's about someone coming up with the money to allow us to do a CVA, which has to be supported by the requisite number.
"I can only do so much in terms of navigating round the problems, but it's a question of the funds being raised - because if they aren't, there's no money to operate the club. That's the problem.
"I don't think there will be a white knight for this club, I could be proved wrong, but that would be my best guess."