Celtic manager Neil Lennon confident of keeping Gary Hooper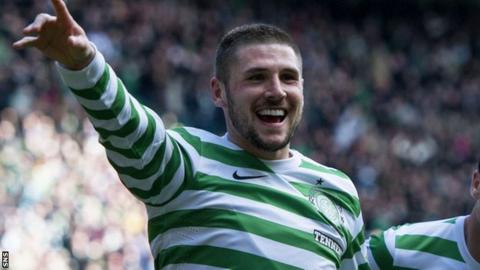 Celtic manager Neil Lennon is confident leading goalscorer Gary Hooper will remain at the club next season, despite speculation over his future.
Hooper turned down what the striker believed was the club's final offer of a contract extension in January, but Lennon is hopeful of retaining him.
"My preference would be to give Gary a new contract and keep him around for a bit longer," Lennon said after sealing the Scottish Premier League title.
"My gut feeling is that he'll stay."
Hooper joined Celtic from Scunthorpe for £2.4m in 2010 when he signed a four-year deal and the Glasgow club rejected numerous bids from Norwich City for the player in January.
Speaking to the BBC on the day after Celtic beat Inverness Caledonian Thistle 4-1 to win the club's 44th league championship title, Lennon said Hooper was a key member of his squad.
"He's our leading goalscorer and it's not just the volume of goals he gets, it's the important ones," said Lennon.
"When you really need a goal he pops up with the important one. It's pivotal that he stays.
"Our policy has been to bring these young boys in, develop them and sell them on.
"We've got plenty of assets in the team for the first time in a long time, but off the back of what we did in the Champions League, I don't think there's the pressure on the board to have to sell."
Lennon was also dismissive of the notion that Celtic's title win was inevitable given the absence of their Glasgow rivals Rangers, who were placed into liquidation last year and were forced to reform in the bottom tier of Scottish football.
The Celtic manager admitted that the club's fans perhaps yearned for the competitive edge that Old Firm encounters brought, but insisted that Celtic had won the championship title with greater ease in previous season when Rangers were direct competitors.
"This one gets brought up a lot," said Lennon. "There's no doubt that the fans missed the edge, the to-ing and fro-ing between both sets of fans, but in terms of competition, in my time, this is the eighth championship I've won as part of the club and five of those were won by 17 or more points with Rangers in the league.
"The only time it's been close is when it's gone to the final day of the season with Rangers, but the fans definitely miss that edge between each other.
"It's never easy, but for me it would denigrate what the players have done if I said it was easier. It's not easier at all.
"I suppose what everyone misses is when the results come in and you've had your result and you look over to see what's happened across the road.
"But as far as we were concerned, we knew what we were facing going into the season and we had to get on with it."