AFC Bournemouth plan stadium expansion after promotion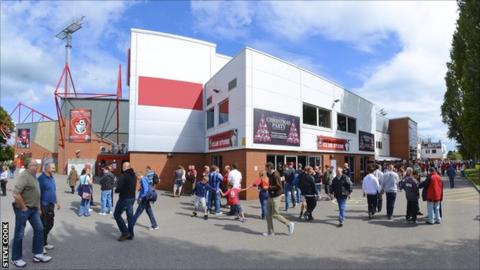 Promoted League One club Bournemouth are set to expand their stadium ahead of next season's Championship campaign.
Their ground currently holds less than 10,000 and only has three stands, but chairman Eddie Mitchell says they plan to build a new 4,000-seat stand.
"I would like to think there is every chance to get it ready for the start of the season. We just want to get it done," Mitchell told BBC South Today.
"Our main aim is to get another 3-4000 in the stadium."
The Cherries were promoted to the second tier of English football for only the second time in their history on Saturday but would currently have the smallest capacity in the Championship.
Mitchell, who says work could begin in less than a month, admits that is something they are keen to address having already refurbished other areas of their Goldsands Stadium.
"We've got to do our bit and get that capacity up," added Mitchell.
"We want to replicate the North Stand. To take it on further we will need different planning permissions, which takes time."
Mitchell is keen to cement the club's place in the Championship before turning their attentions to achieving the ultimate ambition of Premier League football.
He said: "Our aim has got to be to establish ourselves in the Championship over the next three or four years, and why shouldn't Bournemouth go further?
"We are no different to any other club. We've got a big conurbation - bigger than some Premier League clubs. We have a lot of hard work to do, but I'm not here for a jolly.
"My time and effort has been enjoyment so I cannot class that as work. What I will say the time and energy the players and management team have put in has reaped its reward.
"It's a very unrewarding job but the delight I get is from seeing the delight on people's faces. I was born just down the road and to see the fans enjoy themselves has been great.
"I feel my job is done. If you are going to lead something then you've got to believe in it and be determined to make it successful."