Luis Suarez: Liverpool given a world-class problem

By Phil McNulty
Chief football writer
Last updated on .From the section Football1994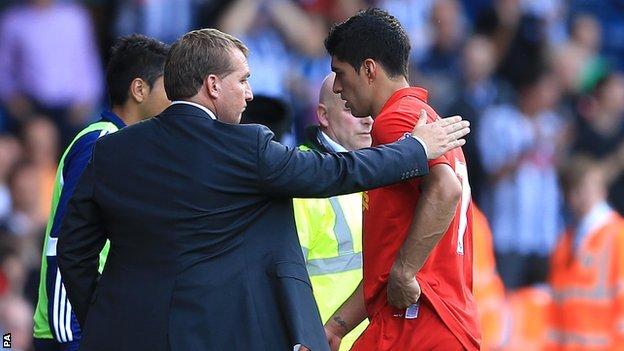 Liverpool managing director Ian Ayre should have been spending this week in the Far East and Australia polishing his club's global brand.
Instead, he is back at his desk confronted by the latest mess left behind by the Luis Suarez circus.
Ayre was forced to abandon his four-day promotional trip abruptly in order to deal with the blizzard of negativity caused by Suarez's shameful bite on Chelsea defender Branislav Ivanovic during the second half of Sunday's 2-2 draw at Anfield.
In recent times, Ayre has been repeating the message that Liverpool without Suarez is not an option - and the Reds chief was at pains to do so again on Monday.
Suarez is, or at least was, the jewel in Liverpool's crown and so precious that he must be protected from the advances of Champions League superpowers, such as Bayern Munich and Juventus.
Now, however, the Uruguayan is in disgrace again after tarnishing Liverpool's name once more, adding to his list of misdemeanours with a repeat of his 2010 offence, when he bit PSV Eindhoven's Otman Bakkal. That particular incident earned the 26-year-old a seven-match suspension.
As Ayre and Liverpool's Boston-based owners, the Fenway Sports Group, make their way through the rubble of Suarez's unprovoked attack on Ivanovic, they will be aware there is growing pressure to repair the club's reputation by parting company with their striker.
As BBC Sport's former Liverpool defender Mark Lawrenson remarked with great accuracy: "He is a world-class player but he gives you world-class trouble."
To Liverpool's credit, there was no repeat of the ham-fisted PR shambles that accompanied Suarez's altercation with Patrice Evra last season.
That saga ended with Suarez receiving an eight-match ban plus a £40,000 fine after being found guilty by an Football Association independent regulatory commission of racially abusing Manchester United's French defender.
Following the bite on Ivanovic, Liverpool's public apology and condemnation came swiftly, as did a fine.
Lessons had been learned, but not, it seems, by Suarez.
It must sometimes seem to those in power at Anfield that the forward is on some sort of personal mission to take a wrecking ball to Liverpool's reputation.
History tells us that every day without a Suarez controversy is only another day closer to the next one.
The decision of the Professional Footballers' Association to offer anger management lessons to Suarez is a noble gesture, but his track record suggests it may be a futile exercise.
The organisation may also have to deal this week with the possibility of Suarez being named its Player of the Year - a potential source of embarrassment given his current low standing.
As Liverpool's hierarchy discuss their next moves, they will be asking themselves what thought processes led Suarez to bite Ivanovic. Is the striker a personality who is simply impossible to control?
The realities of football will also make Liverpool ask themselves if they could live without Suarez, even though he is the player who has carried this transitional campaign under new manager Brendan Rodgers.
Rodgers rebuked Suarez for admitting he dived in an attempt to win a penalty against Stoke City, but what happened in front of The Kop on Sunday is on another level and may make some inside Anfield feel this is one offence too far.
The notion of Liverpool making a swift decision to sell Suarez was always fanciful. After all, Manchester United did not show Eric Cantona the door when he launched himself kung fu-style into the crowd at Selhurst Park in 1995.
In spite of his track record, Suarez would attract instant interest should he come on the market. Old rules will apply - other clubs and coaches believe it will be different with them - and world-class strikers always find a home.
There is also the not inconsiderable factor that Suarez is one of world football's elite performers - and they hardly form a long line at Liverpool these days. In a purely footballing context, it would be a desperate blow for Liverpool to lose Suarez.
His late equaliser, which Chelsea will regard as a grave injustice given he should not have been on the field and something that may impact on their Champions League hopes, was his 30th goal of the season.
And if Liverpool did sell, how could they replace those goals? Strikers of such quality are rare - and those who would be willing to move to a club not in the Champions League number even less.
Another possibility is that Suarez, who regularly pledges his loyalty to Liverpool, may now find life in the Premier League so uneasy that he feels it is time to seek new adventures elsewhere.
He would command a huge transfer fee - bidding would start around £40m - but will he be made available? There may be a school of thought that finally ridding themselves of the Uruguayan's excess baggage and rebuilding crucial areas of a team has some sort of attraction for Liverpool's owners.
All these factors will be preying on the minds of FSG as they ponder how to move this damaging situation along.
They could claim a place on the moral high ground - and clear some debt - by selling Suarez, but they will know their hopes of restoring Liverpool to their former status would be severely damaged by doing so.
It is a delicate balancing act, but Reds owner John W Henry and his cohorts will feel the pain of the damage Suarez has inflicted upon Liverpool once more.
Rodgers talked about Liverpool's "incredible values and ethics" - values and ethics that are being put to the test by Suarez. Plenty will now feel enough is enough after the sight of a Liverpool player with his teeth clenched around an opponent's arm.
Suarez's supporters suggest the fact that he plays "on the edge" is part of his somewhat unique allure.
Sadly, for a player whose record of bad behaviour will always overshadow his talent, he goes over the edge too often.
World-class player. World-class trouble.