Gateshead survival 'imperative' - manager Anth Smith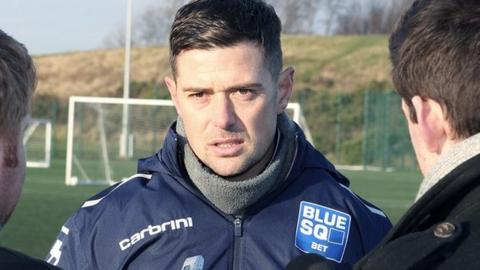 Avoiding relegation from Blue Square Bet Premier was vital for the future of Gateshead Football Club, according to manager Anth Smith.
The Heed secured their place with a 2-0 win over Ebbsfleet on Saturday.
Problems at the Gateshead International Stadium forced the club to play its 'home' games at a variety of grounds.
"We're trying to do so much to build an infrastructure, develop the youth side, and this was imperative in allowing us to continue doing that," said Smith.
Had Gateshead been relegated it is likely the club would have reverted from professional to semi-professional status.
Drainage problems with the International Stadium pitch this season lead to the club playing home games at grounds including Hartlepool, York and even Boston in Lincolnshire.
"The last thing I wanted was to stay up on a default from another team, and the win finishes it off really well," Smith continued. "It puts us on 55 points, which is mid-table a couple of seasons ago - that's how freakish a season it's been.
"But I've enjoyed the season, I really have, despite everything that's been tossed at us. I said to the lads at half-time, 'imagine the elation you'll feel if you come through despite everything that's been thrown at us, and you're still in the league'.
"From my perspective I've learned absolutely loads and I'll take that forward as a manager and as a coach, and it will stand me in good stead for the future.
"But I'm absolutely delighted for the supporters - it's been such a frustrating time, and they turned out in force, they didn't get anxious, they supported the lads in the right manner.
"It's tested their loyalty, this season, but they stuck by the club and hopefully we can build on that and get success for them in the future."