Aldershot Town: Jamie Young questions squad commitment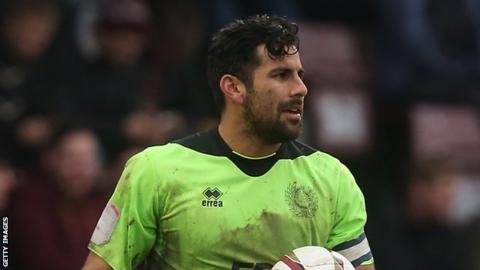 Aldershot Town goalkeeper Jamie Young has questioned the commitment of some members of the playing squad.
The Shots are on the brink of relegation from League Two, sitting three points from safety.
Young told BBC Surrey: "I don't believe in sugar-coating things. We are down the bottom of the table for a reason.
"As a professional, in any job, you should always want to do your best at it. Unfortunately some of the players here haven't."
The 27-year-old Australian added: "For me, I will always give my best as I am representing my family and have come a long way to play my football here.
"It would be a real shame if I never tried my best.
"I wish some of the other players here could do that as well.
"You've got people driving Mercedes Benz [cars] or have names on their boots but are living at home. That speaks volumes for me."
Young, who joined the Shots in March 2010, has made 43 league appearances for the Hampshire club this season, keeping 14 clean sheets.
"My job is to be a goalie and keep the ball out of the net," he said.
"I can only concentrate on what I do but if you ask me honestly 'Did the players give enough?' or 'Could they have done more?' then yes, they could have done more.
"I look at any boss and when he says he wants me to do something, I do it.
"There are players in our team that, when the boss says something, they don't do it. I can't understand that. That is part of being an employee.
"Wherever I am I will always give my best and try and play in the fashion the manager wants me to.
"It's not easy to come in and train every day. But it is a great job and I am sure any person who is not a player would love to be in that position."
Aldershot's Football League status is hanging by a thread, with the Shots needing to win their final game at Rotherham on Saturday to have any chance of staying up.
Even then the Shots will need AFC Wimbledon not to win and Barnet to lose, and hope for a six-goal swing in goal difference against the Bees.
"You look at mentalities in your team," said Young.
"I have been a part of three promotions in my career and those mentalities are vastly different to ours.
"Over the course of the season we could have done a lot better.
"It is disappointing because a lot of our problems are of our own making.
"But until it is mathematically impossible we've got to approach it like any other week. Stranger things have happened."