Partick Thistle celebrate return to the big time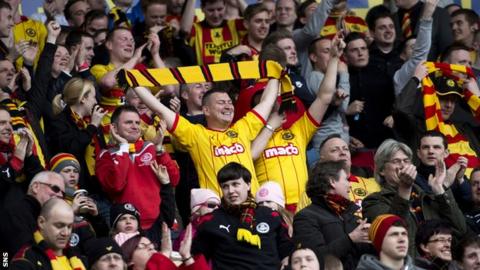 It must be a long time since Highway Code rule number 112 has been broken as flagrantly as it was in Falkirk on Saturday.
Conducted by BBC Scotland reporter-turned-automobile-choir-master Chick Young, many buoyant Partick Thistle fans expressed joy at winning the First Division title by honking their car horns after victory against the Bairns.
Legislation urges road-users to sound horns "only while your vehicle is moving and you need to warn other road users of your presence".
But, in a round-about way, perhaps these Thistle supporters, driven by delight, weren't disobeying completely.
Maybe followers of the Firhill outfit were right to signal their intentions and warn other Scottish Premier League clubs of Partick's forthcoming presence in top flight.
Season 2013/14 will be the first time the Jags have graced Scotland's highest tier since 2003/04.
And it's all the more satisfying for manager Alan Archibald given that his side's chances of promotion were played down by many earlier in the campaign.
They felt Thistle getting out of Division One hinged on the capabilities of former boss Jackie McNamara.
So, when the former Scotland full-back left Firhill for Dundee United in January, the general conclusion drawn was that an experienced Morton squad would get the better of a youthful Jags led by a rookie manager.
At the time, Alan Moore's Greenock men were eight points clear of Thistle, so it wasn't the most outrageous opinion to subscribe to.
But 11 league wins out of 14 since then has seen Archibald wrap things up with two games to spare, winning consecutive manager of the month awards along the way.
And his young charges used celebratory T-shirts to send a message to those earlier detractors.
"It said 'kids versus experience'," Archibald said.
"It was a message to everybody, aimed at all you guys in the press, other teams and everybody else.
"As soon as Jackie left, everybody wrote them off and I think they took it to heart a wee bit and that's what drove us on.
"We've got a young team with a lot of hunger and desire. They want to prove themselves and see how good they are, and that's what's driven them on all season.
"I brought in Scott Paterson [as assistant manager] who's been absolutely brilliant - the boys took to him right away and kept on with the hard work."
Two Jags' success stories over recent seasons have been Chris Erskine and Paul Paton, who arrived at Firhill from junior outfit Kilbirnie Ladeside and Queen's Park, respectively.
However, both of those midfielders will play their SPL football with McNamara at United next term, having already signed pre-contract deals at Tannadice.
Therefore, replacing that pair, in addition to adding depth to his squad in other areas, represents a significant challenge for 35-year-old Archibald, who made 20 appearances in defence this term prior to McNamara's departure.
He won't need to worry about attracting fans to Firhill, though - almost 9,000 watched their recent top of the table clash with Morton.
"They've been brilliant all year, they've followed us everywhere," Archibald added.
"In the last couple of weeks, they've probably got us over the line in a couple of games. They have been the 12th man.
"They turn out in their numbers and that's one thing they'll bring to the SPL."
Residents of Edinburgh, Aberdeen, Dundee, Inverness, Perth, Motherwell, Kilmarnock and Paisley just hope all those fans don't bring their cars, too.