Olivier Giroud: Arsenal to appeal against red card at Fulham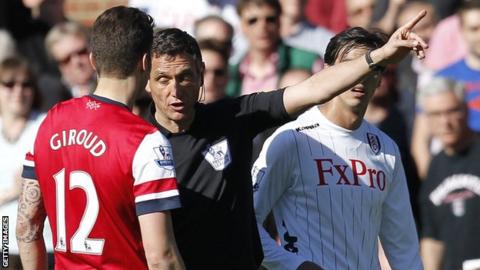 Arsenal have lodged an appeal to the Football Association against the red card Olivier Giroud received during Saturday's 1-0 win at Fulham.
The French striker was sent off late on for a foul on Stanislav Manolev.
"Giroud said to me that he slipped at the moment he went for the ball and it's confirmed by the television," Arsenal boss Arsene Wenger said after the match on Saturday.
An FA regulatory commission will make a decision on Tuesday.
The win against Fulham was Arsenal's fifth in their last six Premier League games, strengthening their bid for a top-four finish.
They are third with 63 points, two ahead of Tottenham in fifth.
Giroud has scored twice during the Gunners's unbeaten run - in a 4-1 win against Reading on 30 March and the 3-1 victory over Norwich earlier this month,
He has scored 17 goals in 46 appearances this season after joining Arsenal from Montpellier last summer.