Bayern Munich: Is this their best ever team?
By Raphael Honigstein
German football expert
Last updated on .From the section Football217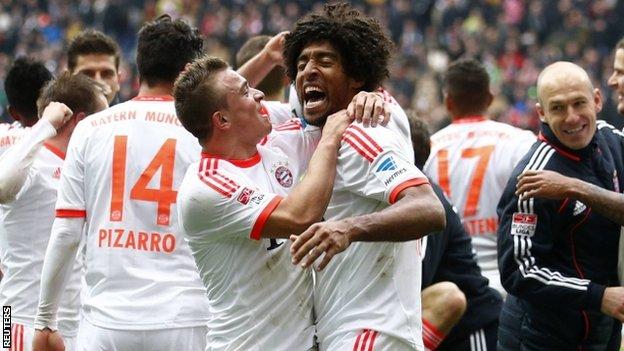 "They are super, clever, perfect," 1990 World Cup winner Andreas Brehme told German newspaper Die Welt. "We have never seen a team dominate to this extent in their chase for a treble before".
Fellow Bayern Munich old boy Manfred Schwabl, a midfielder in the late 1980s and early 1990s, thought rival clubs would be best advised to join forces in a merger, as "Bayern's superiority was never this marked in our time".
Armin Eck, who played 39 games for the Reds in the 1980s, compared them to the German stock market: "Whenever you feel this is it, they just keep going up, up, up. I have no idea where this one could end."
"They can only beat themselves," said Ludwig Koegl, scorer of Bayern's goal in the 2-1 European Cup final defeat by Porto in 1987. And former keeper Raimond Aumann, now a fan liaison officer, revealed that he was receiving many letters full of gushing praise: "Our fans say this is the best Bayern team of all time".
Such was the mood in March 1999. That Bayern side, led by Stefan Effenberg, Mario Basler and Lother Matthaeus, did go on to win the championship but became unstuck in unprecedented, barely credible fashion in the Champions League final in Barcelona - 2-1 to Manchester United in injury time.
Two weeks later, they slumped to another defeat in the DFB Cup final, on penalties, against Werder Bremen. No one has ever mentioned them as the equals of the great 1970s team of Franz Beckenbauer, Paul Breitner, Sepp Maier, Uli Hoeness and Gerd Mueller, who won three European Cups in a row, but Effenberg and co did write their own bit of history when they won the Champions League in 2001.
The current Jupp Heynckes-coached team is at a similar juncture as their predecessors in 1999, albeit with a difference - the superlatives have only become bigger. And with it, the expectations.
The 6-1 stroll at Hannover on Saturday was the 13th consecutive Bundesliga win since the winter break, and their 26th in 30 matches. Needless to say, both are record figures.
Bayern, the quickest team to win the title in the history of the league, are also on course to smash the highest points tally, the record for goals scored and for those conceded before the season is over. What has made those numbers even more frightening for the competition is the ease and elegance with which Heynckes' men have been winning recently.
It does not even seem to matter anymore if the 67-year-old picks his best team or rests a few regulars, as he did again at the AWD-Arena against Hannover.
"The Bayern machine keeps running relentlessly," reported national newspaper Sueddeutsche Zeitung. "This is the best football in the club's history," gushed club president Hoeness after the team won their 23rd championship two weeks ago.
It is hard to disagree with this verdict, especially from a purely aesthetic point of view. The 1970s team played some fantastic football, but they won their European Cups a few years after they had peaked as a team, relying more on grit and and hard work than on their attacking skills.
In the league, they had become poor and inconsistent by then. The 1999 team was again an exciting side, but after that traumatic defeat in Barcelona, coach Ottmar Hitzfeld adopted a much more defensive set-up. They won the Champions League with a sweeper system in 2001, and it was Bayer Leverkusen, the following year's beaten finalists, that were widely revered as the most attractive German club side of their generation.
If nothing else, this Bayern side have wrested that stylistic accolade off Leverkusen. Nobody disagreed with Heynckes when he ventured that "FC Bayern have never played a football this modern, this attractive, this contemporary in their whole history," back in January.
It has been a remarkable transformation since Barcelona last came to Munich for a Champions League quarter-final second leg four years ago. That game was little more than a dead rubber after Pep Guardiola's side had completely destroyed Bayern with four goals in the first half of the first leg, and the second ended 1-1 in Munich.
In hindsight, this was a humiliation that worked out extremely well, however. Bayern fired Jurgen Klinsmann, a coach strong on motivational speeches but weak on tactical details, and decided to bring in veteran Dutchman Louis van Gaal that summer.
Mario Gomez and Arjen Robben were added at great expense to reduce the reliance on Luca Toni and Franck Ribery.
Van Gaal, 61, took the side to their first Champions League final in nine years - a 2-0 defeat by Inter Milan - and to the domestic double. His unshakeable self-confidence ("he thinks he's God," said Hoeness) meant relations with the board broke down the next season. He was fired in 2011 and eventually replaced with Heynckes.
But Van Gaal's influence can still be keenly felt today. The former Barcelona coach preached the importance of passing and possession. He installed Bastian Schweinsteiger in central midfield, while promoting youngsters Thomas Mueller, David Alaba and Holger Badstuber.
Above all, he gave Bayern, the club that has always prided itself on the individual ability of their players, a strong footballing identity.
Heynckes built on these foundations, making the team more defensively balanced. Van Gaal's dogmatic "positional football" - everyone had to stick to their specific space on the pitch when attacking the opposition goal - was replaced by a much more fluid style that has given the front men licence to roam and swap almost at will.
In his second season, Heynckes has also added an element of the high pressing that has made Dortmund (and Barcelona before them) so effective. The team's excellent work ethic, a careful rotation policy and unparalleled strength in depth have made them the complete package.
As much as the club enjoys the domestic and international plaudits ("they play beautiful football that's great to watch," said Barca midfielder Sergio Busquets on Monday), they would happily trade it in for three dour, unappealing 1-0 wins in the next three Champions League matches.
Unlike Barcelona, who they have come to resemble on the pitch, the Bavarians will never consider beauty as an end itself. They have always defined themselves by their ability to win trophies.
So unless they actually go all the way this year, all the compliments will be seen as little more than a somewhat embarrassing footnote, just as those statements from 1999 feel now.