Hereford United: Players told by text that there is no pay for April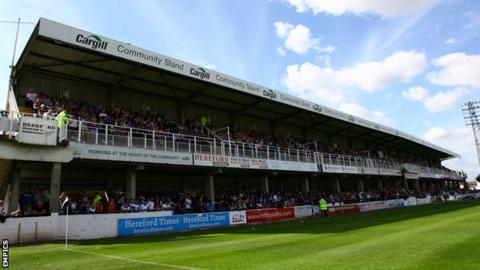 Hereford United have been plunged into further financial woe after revelations that their players have not been paid.
A week on from sealing sixth place in the Blue Square Bet Premier, the Bulls players were told by text on Friday that they will not get April's wages.
Chairman David Keyte said: "Manager Martin Foyle used a text message to inform all the players this morning."
In a club statement released on Friday night, he added: "I personally met with the other club employees."
The players were already owed money, having not been fully paid in March.
Having been close to administration earlier this season, Keyte claims that they now need £135,000 to meet their short-term financial liabilities.
Six players, along with club physio Ian Rodgerson, were released from the wage bill this week when the club announced their retained list.
But, despite a lucrative FA Cup run which cleared urgent tax bills last season, the Bulls are still paying the price for relegation from the Football League a year ago.
"We have completed a season where we knew our Football League funding was to be £500,000 less than in League Two," added Keyte.
"We have also recorded gate money approx £240,000 less than the previous season.
"We knew also that the 10 Football League contracts that run to 30 June 2013 would stretch us and all in all we have fallen three months short of the date when the necessary adjustments can be made.
"In addition, we now also have to manage through the loss of the £215,000 'parachute payment' which ends this June.
"We are now a non-league club with outside funding of just £50,000 for the 2013-14 season, when League Two clubs are now receiving approx £800,000 funding from the Football League.
"Our revenue will have fallen from £1.8m in 2011-12 to a budgeted £900,000 in 2013-14 based on an average crowd of 1,800.
"We are therefore assessing all lines of expenditure with the player wages budget likely to reduce by at least £100,000 from last season and £700,000 less than our League Two budget in 2011-12.
"At this time we have an immediate cash requirement of approximately £135,000 to meet wages, PAYE and football creditors and VAT, which is due on 7 May.
"In the medium term, we will seek shareholders agreement to launch a share Issue and also a debenture scheme, where supporters can purchase a seat for the next five years with accompanying facilities."