Premier League won't affect Wales, says Chris Coleman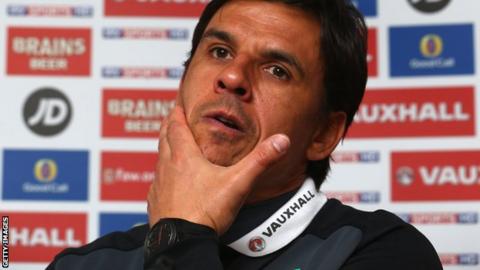 Wales boss Chris Coleman says having Cardiff and Swansea in the Premier League will not affect his job unless they sign more Welsh players.
Cardiff will join Swansea in English football's top flight next season.
"For Welsh football and the publicity it's going to generate it's absolutely fantastic," Coleman said.
"But in terms of my job and the national team itself, unless Cardiff or Swansea sign more Welsh players, it's not really going to change a lot."
Coleman added: "I've said before, Malky [Mackay] has got to do what's right for Cardiff and Michael Laudrup's got to do what's right for Swansea. Who they sign is up to them."
Forward Craig Bellamy is the only Welshman who has featured regularly in Cardiff City's promotion winning campaign this season.
Swansea's first-team regulars this season have included Wales defenders Ashley Williams and Ben Davies, while left-back Neil Taylor has been sidelined with injury.
Swansea have established themselves in the Premier League after promotion in 2011 and Coleman says Cardiff will need to strengthen their squad wisely if they are to emulate the Swans.
"It's a tough league the Premier League," said Coleman.
"It's hard enough getting into the Premier League - it's much easier to get out of it if you're not careful.
"Malky will know and Cardiff will know they've got a lot of hard work to do and they need investment. They need to improve the squad.
"They've had a great season and secured promotion. It would be an even bigger achievement to stay in the Premier League next year.
"There's no reason why Cardiff can't be in the Premier League the year after next if they do it right and if they invest right.
"You can't gamble because a lot of clubs that got to the Premier League gambled and in three or four years they were in the first or second division."
Cardiff City owner Vincent Tan says the Bluebirds could spend up to £25m in preparation for their promotion to the Premier League.
But Coleman, who managed for four years in the Premier League with Fulham, does not think £25m will be enough.
"£25 nowadays doesn't go that far, which is frightening really," Coleman told BBC Wales Sport.
"£25m is a lot of money in any terms. But in the Premier League, in terms of what players costs, three or four English players could cost you that.
"It's very expensive to sign British players. The market abroad is a cheaper one."