Mark Clattenburg to referee Chelsea after John Mikel Obi row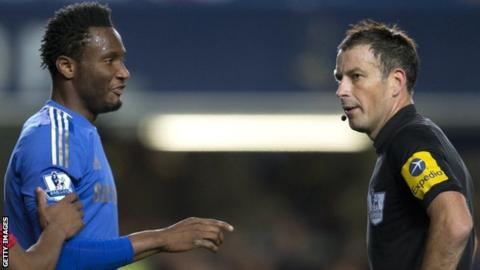 Mark Clattenburg will referee Chelsea on Sunday for the first time since being found blameless in last October's racism row involving John Mikel Obi.
Clattenburg, who takes charge of the Premier League game at home to Swansea, was accused of using "inappropriate language" to the Nigeria midfielder.
The referee was subsequently cleared by the Football Association, while the police dropped their own investigation.
But Mikel, 26, was fined and banned for threatening Clattenburg after the game.
In December, the Chelsea player was handed a three-game ban and fined £60,000 after entering the match officials' changing room after Chelsea's 3-2 defeat by Manchester United on 28 October.
The allegation about 38-year-old Clattenburg came from Mikel's team-mate Ramires, with the FA later deciding the Brazilian's claim "was made in good faith".
Clattenburg missed four weekends of Premier League matches while the FA investigated the complaint.
Chelsea later stated that they regretted the way the matter had been handled and in November said they wanted "to make it clear they would welcome Mark Clattenburg back to Stamford Bridge in the future".