Ryan Giggs's Manchester United loyalty praised by Michel Platini
Last updated on .From the section Football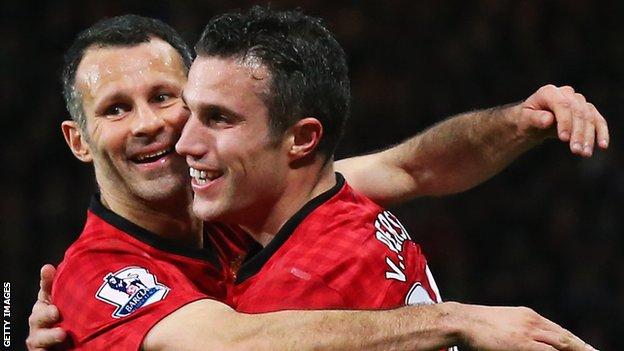 Ryan Giggs has been hailed by Uefa president Michel Platini for staying loyal to Manchester United.
United have now won the Premier League 13 times and Giggs has featured in all of those title-winning campaigns.
"That is beautiful. I like the people that fight for their colours and don't change [clubs] every two months to make business," Platini said.
"He's a guy who would never change clubs."
Giggs played a prominent role in United's win over Villa at Old Trafford, setting up two of Robin van Persie's three goals.
Cardiff-born Giggs has spent his entire career at Manchester United since making his first-team debut as a 17-year-old in 1991.
The 39-year-old made his 1,000th senior appearance this season and signed a new one-year contract with United in March.
And Uefa president Platini, a former France captain, says Giggs's loyalty is to be admired.
"To make business you have to change clubs often. It's a pity we change, change, change but I know why we change.
"It's not because to be at better clubs, it's to have better money.
"Ryan Giggs is totally different. It's important to create an identity and it's important that one guy for one club fights for the colours."