Manchester United: Ferguson praises Van Persie impact
By Chris Bevan
BBC Sport at Old Trafford
Last updated on .From the section Football550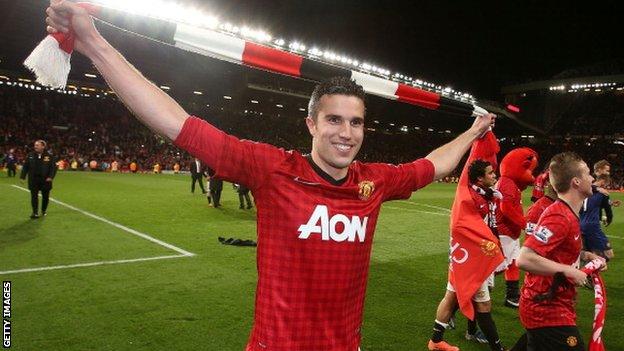 Sir Alex Ferguson says Robin van Persie has had "as big an impact as anyone" he can remember at Manchester United after helping them win the Premier League.
He has hit 24 league goals since moving from Arsenal for £24m last summer.
United boss Ferguson said: "I remember Arsenal manager Arsene Wenger saying to me 'he's better than you think' when we concluded the deal. He was right."
Earlier this season, Manchester City boss Roberto Mancini said his failure to buy Van Persie was the difference between the two teams in the title race.
And, when asked after the Villa game where he ranks Van Persie in terms of the best signings he has made during his 26 years in charge of United, Ferguson replied: "He has made a fantastic contribution.
"In terms of impact he has had as big an impact as anyone I can imagine.
"Eric Cantona was an incredible impact player and I have been very, very lucky in that I have had some fantastic strikers right through, probably 10 great strikers at the club.
"I think we had an expectation of Robin because his performance last year for Arsenal was sensational. We saw him last year and knew he could gel into the way our team was, and he has never disappointed us."
Ferguson called Van Persie's left-foot volley that put United 2-0 up on the night, the "goal of the century".
The Scot added: "It was a marvellous hit, head down, over the ball, perfect timing - a magnificent strike.
"Of all the great goals we've scored over the years, from David Beckham through Ole Gunnar Solskjaer, Eric Cantona, that goal has joined that.
"He's been unbelievable. His early form in the first six months was fantastic. He had the spell where he didn't score but he was unbelievable against Villa."
Ferguson also praised some of his younger players after securing his 13th Premier League crown, and says he is confident his whole team will be even stronger next year.
"The nucleus of the side is young enough," he added. "We expect them to improve.
"This season we saw an incredible improvement from Rafael. The impetuosity has left him and he is playing with great maturity now. David De Gea has developed fantastically well too.
"And I think Phil Jones is one of the best players we have ever had, no matter where we play him.
"He has got such fantastic influence no matter where he plays, and has such an instinct for the game and a drive about him. At 21, I think he is going to be a phenomenal player - I have no idea what his best position is , because he can play anywhere on the pitch."
United are 16 points clear of deposed champions City with four games to play and, as well as chasing a Premier League record tally of 96 points - Chelsea accumulated 95 in the 2004-05 season - they could break the record for the biggest margin of victory in the top flight, which they set themselves when they took the title by 18 points in 1999/2000.
Because of the manner of their success, Ferguson does not think it will be long until his current team earn the same admiration as some of his great sides of the past.
"It must, it must," he insisted. "I am trying to think of a player who scored a goal like Van Persie's against Villa, that's one example. These players have joined the pedestal.
"I think Rafael will eventually be compared to Gary Neville. Jones, Jonny Evans, Rio Ferdinand and Nemanja Vidic are without a doubt as good as all the centre-backs we have had. I am not saying they are better.
"When you do compare them, then obviously we have had some fantastic players in the past and I am not trying to minimise their impact on the club, but great players are great players and the nostalgia thing does play tricks with your mind."